podcasts
Mental Health Awareness in South-Asian Cultures – Podcast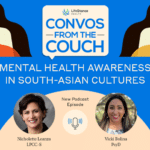 By LifeStance Health on April 21, 2022
LifeStance DEI (Diversity, Equity, and Inclusion) Director Vicki Bolina, PsyD joins us to discuss the topic of Mental Health and South-Asian Cultures.
Hello everyone, and welcome to Convos from the Couch by LifeStance Health. I'm [Nikki 00:00:14] Leanza, and on today's episode, I'll be talking with Dr. Vicky Bolina, our national DEI Director, about mental health and south Asian cultures. So welcome Dr. Bolina.
Thank you. Thank you. Thank you. Well, my name's Vicky Bolina and I am a clinical psychologist. And I work out of the Vernon Hills LifeStance Health office, it's in the suburb of Chicago. So I've been in private practice for about 10 years or so, and I also teach undergrads and graduate level psychology classes. So in my previous clinical experience, I've worked in hospitals and school systems and even within the prison system. But obviously the last 10 years or so, I've been in private practice. So something I've seen is an increase in seeing south Asian individuals coming into clinical practice and coming in for services. And so that's kind of what I'm here to talk about a little today.
Yeah, which is, I think, so important that we are talking about this. Now, when we look at south Asian cultures, what specific regions are we covering here?
So I personally identify as a south Asian female. And so, Asia in general comes with five regions. So I'm going to be talking about south Asia specifically, so that would cover the countries of India, Pakistan, Sri Lanka and Bangladesh. So we could spend the entire podcast just talking about the makeup of Asia, but obviously this is not a geography podcast, right. So I think it's going to be important to note just the differences though, right? So there's also 48 countries that make up Asia and there's about a hundred languages.
And so, I think that is important to note that when we are asked to check off the race box in the categories, right, whenever we're filling out applications, whatever it is. That's important to note that whether I'm from China, right, and I speak Mandarin, or whether I'm from India and I speak Hindi, or whether I'm from Cambodia and speak Vietnamese, we're all going to check off that Asian box. So that is extremely important to note here.
Yeah, good to know that and help us understand that for sure.
Yeah. So I will be talking about a specific part, right? So south Asian, and then in general, that country that I'm talking about will be India, as that is where I'm from and generations before me, all my family is from there.
And then within India, I'm going to be talking specifically about Punjab, which is a state in India. So again, like we have Asia and then we have south Asia and then we're just getting more and more specific.
[crosstalk 00:03:04] Gotcha. Yeah, no, that's great. I appreciate that. So let us start our conversation. Can you give us an idea of what are some of the paramount values within south Asian culture?
So again, just backing up just for a second, right? It goes back to India does have the world's oldest cultures, right? And so there's many languages that are spoken in India and within the world too, and within the US. And so religious wise as well, there's many religions that people will follow. So some people will identify as Hindu, some will identify as Muslim, Catholic, Christian, Sikh, Buddhist. And so personally, again, my family is from Punjab and my religious identity is Sikh. And so again, I'm just going to be talking about a specific part and this is just generalizing.
So I think across the board in all Asian and south Asian families, family for sure is fundamental. And so when I'm talking about family, I'm not just saying a mom, dad, two and a half kids and their dog, I'm talking about sets of grandparents, great grandparents, uncles, aunties, cousins, in-laws, extremely close. And so I think, for sure, that's important to remember that family truly is the glue that I think holds south Asian families together. So the institutions of marriage and children are paramount in south Asian families. And so, I think I'm sure you've heard of big Indian weddings, so I'm here to tell you that's completely true. So 200 members in a family going to a wedding is going to be a small wedding for us. [crosstalk 00:04:51]
Wow, that's a small wedding.
So weddings or big celebrations, again, family, friends, everyone. And so it does go back to show that marriage and children are, again, fabrics inside every single south Asian family. And so arranged marriages as well are very popular in south Asian families, and so that is something that just to be aware of as that's not very common in Western cultures. Right? And so I know over of the years, for sure, it's acceptable to bring home a date. Now you might be introducing them to 25 of your closest family members. So a little pressure there, but I think those kinds of differences are extremely important to note, right.
And then also in addition, I think things like hard work and making it in academics are definitely values that are stressed on from a very early on age.
So it's very common to have at least one college degree. So I think those are certain differences that a lot of clinicians, a lot of people, would not know if they're having a south Asian come in for services to be like, "Oh, okay. So maybe you had an arranged marriage." That's not going to be common knowledge that we're going to ask people those kinds of things. Because here, we assume that most people dated and things like that.
Right, right. So bringing mental health into this conversation, how may mental health symptoms present in the culture?
So again, I think there's a lot of different ways that they can present. So Western cultures in general, right, are very independent. And Asian cultures, Eastern cultures, are very interdependent. So I think for Western cultures, it's important to know that we encourage individuality. We ask people to speak up, right, and talk about their emotions, discuss their wants, versus Eastern cultures where we're talking more about the collective whole family. And so that respect of elders and having their permission to do certain things, that's going to be definitely a difference that it will be important to note.
And so also with that, goes hand in hand the way we express emotions. So I think in Western cultures, we're more likely to express our emotions more openly. And in Eastern cultures going to be more subtle. Now the one note to difference, though, is that physical symptoms are okay to discuss.
So for example, it's going to be more likely that you have a south Asian person presenting with headaches and stomach aches and somatic-like symptoms. And therefore, they will most likely present at a primary care physician's office, versus identifying an emotion of sadness or depression and going to go see a psychologist. So I think that definitely is also something to open.
So I think the openness of mental health and seeing visibility of south Asian therapists and mental health professionals has definitely helped change some of this conversation. I know personally growing up, there was no talk of mental health in my home. But over the years at the dinner table, my mom, for example, will be like, "Hey, how's everyone's self care? How's everyone doing? Is everyone taking care of themselves?" So definitely, I think myself being in the mental health field has brought about these dinner conversations to be very normal. And so I think it is very important for mental health professionals who are of south Asian descent to be vocal and to be seen in the community so that we can actually have some of these conversations and make them more doable.
Gotcha. And I do have… So I identify as Italian American. And I do have some clients who align with south Asian culture. And some of my clients are of the younger age so they might still be living with their parents or still have a lot of connection with their parents, even if they're away at college or something. And so, sometimes my discussions with them are looking at the differences with American culture and west culture and maybe the culture of my client's parents and how sometimes they can kind of maybe butt heads against each other.
So I think you sharing with us some of these cultural considerations, if you're a therapist and what to expect, but are there other tips you would give therapists who are not of south Asian culture in understanding and knowing, working with clients who are south Asian, or maybe children or a generation from south Asian parents?
So I think again, it goes back to this west Western-Eastern kind of difference, right? So things like creativity, those are not going to be values, again in general I'm speaking, that are going to be pushed in south Asian households.
So if you have someone presenting who wants to do something extremely creative, that might not be something that is being pushed at home.
And so to be aware of those things and it's that balance of, "Okay, so how do I teach you how to advocate for yourself, but to be sensitive that I don't alienate the family and that respect of the elders. Because again, it goes back to that connectiveness is paramount in south Asian families.
So it definitely is that balance, right. And trying to see that there are other differences and other things in a lot south Asian households, such as religion and religious rituals and things like that. And so in a clinical setting, those might not be the first several questions that we ask, right. We're not going to ask about, "Oh hey, how's your great grandma doing?" Those are not common things like, "Hey, have you been going to church, temple, [foreign language 00:10:58]?" All those things are things that you might not be asking.
And so I think in a clinical, the first couple sessions, I think those are going to be important to address with patients to really get a feel of who is a part of their family, what are the values. Whether they're getting pressure from their family members on marriage, on the aspect of having more children. Again, like I stressed, academics. So academic wise, how is creativity maybe being not pushed? Or is that something you really want? And it goes back to, again, that balance and, like you said, is kind of that push and pull. And you want to keep everyone together still.
Right, right. Excellent point, for sure. And so how are community relationships important for mental health providers?
So I think those are extremely important. Like I mentioned, in general, most south Asians are going to be more likely to talk about physical somatic symptoms. And so, I think it is extremely important to remember that a lot of these patients might first present at the primary care physician's office. And so having those relationships out in the community to identify yourself as someone who can work with south Asian individuals and are sensitive to some of these cultural practices. And just giving information to be like, "Okay. If you kind of see there is clinical depression, there's more going on." Here's a few resources that you can use to maybe send them over to a clinician who is better equipped to handle more longer term, more severe issues.
So do you have some specific resources you can share with us?
Yes, for sure. I think it's going to be important to identify and join forces with allies. Right? So here, I know in Chicago land, for example, we have an organization. It's called [foreign language 00:13:00], which means our house in Hindi. And it is an organization that works with individuals who are experiencing gender violence. And they help them hook up with advocacy and connect them with mental health resources. I know we have the website of southasiantherapists.org and obviously our very own LifeStance Health. We have many, many therapists here that identify as south Asian and they speak the different languages. So for sure, that would be somewhere to start with at least to get some more information, to be like, "Hey, I have a patient who presented. What are your thoughts on this? Is there something else I should know about or I should ask them?" So definitely try to use some of those resources.
Gosh, Dr. Bolina. Thank you. You were a pleasure to talk to you on this topic. And really even made me look at my own clients that I've been working with in another light as well and making sure I'm incorporating some of the things you had mentioned too. So thank you very much for your time. [crosstalk 00:14:01]
And thank you. Thank you for having me. I think, just kind of last thoughts too.
I think always, as clinicians, we should be promoting research that respects all diverse backgrounds, and making sure that we're using culturally informed practices with working with all of our patients.
So thank you for having me.