podcasts
Female Focus: Women and ADHD – Podcast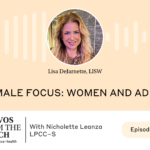 By Jason Clayden on October 4, 2023
In observance of ADHD Awareness Month, this episode delves into the distinct journey of women navigating ADHD. We uncover the frequently underestimated hurdles encountered by girls and women with this condition.
Payton's remarkable path, marked by a delayed diagnosis and a newfound sense of empowerment, provides a source of inspiration. Drawing from her dual roles as a seasoned clinician and someone personally familiar with ADHD, LifeStance Health provider Lisa Dejarnette shares invaluable wisdom and practical approaches.
Together, they challenge preconceived notions, underlining the significance of recognizing and embracing neurodiversity.
Listen and Subscribe Here