podcasts
Workplace Woes: The Rise Of Burnout In Modern Culture – Podcast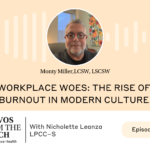 By Jason Clayden on August 8, 2023
As burnout continues to rise globally, with a staggering 43% of middle managers in the US reporting burnout according to Forbes magazine, it's crucial that we explore ways to combat burnout and prioritize mental health in the fast-paced world of today. On this episode, we are joined by Monty Miller from our LifeStance office in Overland Park, Kansas who discusses the definition of burnout, its causes, and its profound impact on mental well-being.
Listen and Subscribe Here
Hello everyone, and welcome to Convos from the Couch by LifeStance Health. I'm Nicholette Leanza, and on this episode I'll be talking with my colleague, Monty Miller, from our LifeStance Overland Park, Kansas office, and we'll be talking about the rise of burnout in our modern work culture. So, welcome, Monty. Great to have you on.
Thank you, Nikki. I'm really glad to be here.
I found recent statistics, and according to Forbes Magazine, a recent study found burnout is on the rise globally, most significantly in the US, where 43% of middle managers reported burnout, and that was more than any other work group. So, it's really key that we're having this conversation today, Monty, because I think you're going to help us understand how burnout can affect our mental health and what we can do to maybe help that with ourselves. So, thank you again.
And so why don't we get ourselves started? Let's have you tell us a little bit about yourself.
Okay, thank you, Nikki. My name is Monty Miller, and I'm a licensed clinical social worker in the state of Kansas and Missouri, and I've worked most of my mental health career in hospitals in healthcare and leadership and in the inpatient and outpatient behavioral health departments. And so I've probably been in the field for close to 40 years now.
Got you. So, you come with lots of experience.
On probably many different topics. Definitely. And hey, being in the field so long, sounds like you've probably had to navigate at times some of your on burnout, perhaps, too.
Absolutely. I think all of us experience burnout at some times in our lives.
Yes. So, how would you define burnout, and do you feel that there has been a rise in it in our modern work culture?
Yeah, great question, Nikki. First of all, burnout is really a form of exhaustion caused by constantly feeling swamped, and it's a result of excessive, prolonged emotional, physical, and mental stress. And oftentimes that is related to work and our work environments and what we do as a career. But burnout happens when you're overwhelmed, emotionally drained, and unable to keep up with life's incessant demands.
And it does feel like… Especially, I think, the pandemic probably complicated things for us, too, moving to virtual work settings, as well.
Absolutely has, yes. And I think in a lot of ways, Nikki, I think through the pandemic too, it really prolonged our ability to complete a lot of projects within our workplace where we really receive a lot of sense of accomplishment and productivity. And that changed a lot throughout the pandemic.
Yeah. Yes, it did. So, what are some causes of burnout, and how can it affect one's mental health?
That's a really good question, because again, I think we can all relate to these, but I think there are many causes. A lot of it is the workplace environment. Sometimes we don't have a healthy workplace environment. Sometimes our leadership skills or the leaders that we have… I think we've all had examples of good leaders and bad leaders, and I think that when we don't have good leadership within our departments, that can help lead to some burnout. If we don't have good camaraderie within the community of our workplace, that can also lead work to burnout, or if we feel like we're not working to the best way that we can, that matches my values of how I work. It can also help us and lead us to burnout.
Yeah. And I think for some people to be burnt out can lead them to, obviously, the mental health effects of increased anxiety, even maybe depression, things like that.
Absolutely, Nikki. In fact, you would see a lot of things. Physiologically, we're affected by it. We may have low energy or fatigue, frequent illnesses. We may have headaches, a change in sleep patterns is a very good one, I think, with burnout. Sometimes we take all the time to [inaudible], sometimes we can't sleep enough, or we're waking up in the middle of night, can't go back to sleep. We may have disengagement from others or activities that we once maybe enjoyed… The frustration, sense of helplessness, helplessness, sometimes really a loss of motivation.
Yeah, that's a big one. I like how you mentioned, too, that it could just be the work environment or the leaders of the managers that you're working under. Oftentimes what I see in some workplaces where the employee is the one being blamed for being burnt out, like it's on their shoulders, when really it's an environmental… It's the work environment itself, at times.
Yes. And many times that it's really systemic to the whole workplace. It starts from the very beginning or top down, if you will, and I think there are more companies… And the last one I worked in, they are really trying to look at that. Companies are starting to take some ownership, I think, in the way that employees feel burned out sometimes.
[inaudible] have personal responsibility-
But starting to look at that.
I'm glad to see that too. That's so important, that they are stepping up a bit and seeing their role in it, the different companies and corporations-
It can also come from… People deal with it.
Yes. Yes. Oh, so important. So what are some tips for managing stress and burnout in the workplace?
That's a really great question. One thing is, if you can, speak to your manager about your feelings. Let them know how you're feeling. You might not be surprised there's others in the department that feels similar, so if we can talk about it in a meeting that's open and honest and direct. If you have psychological safety within your workplace to do that, that's a good way to do that. Maybe step away from your computer every once in a while. Take short breaks during the day, go on some long walks, maybe exercising, ride a bike, a jog, play a sport, or do some yoga. Physical activities will make you feel better. Maybe going outside just to absorb the sunlight. I always carry a lawn chair in my trunk, so whenever I get a chance to stop and sit in the sunlight-
… I do that, because especially during the pandemic, I would carry a couple chairs so I could meet my friends. We could-
… A tree outside and have coffee, but yet be six feet apart. That's so important. So you got to get creative maybe, sometimes, with finding ways to deal with your burnout. Taking up hobbies or taking a mental health day. And some employers are starting to provide mental health days, because they know that that's important to the employees. Maybe even looking at planning vacation so you have something to look forward to. And that was another thing during the pandemic, a lot of folks had to cancel so many vacations, that it really did increase the burnout feeling, I think, for a lot of people.
Yeah. Yeah, definitely. So what would be some advice you'd give to someone who's currently feeling burned out?
Yeah. First of all, I would say talk to trusted friends. And if your employer, if you can, your manager, or you're in your leadership department… Really first identify what it is. Sometimes we don't know what we're feeling, so I think we have to identify it. We have to call it out, we have to name it, and then we have to be able to share it with some other people. And then maybe break down some steps on how we're going to make some changes. "I'm going to start looking for a new job." It may not even be work-related. It could be home related, it could be family related.
It could be overwhelmed with your family schedule. It's burning you out. You're thinking you don't have time for yourself. So maybe you talk to your partner or your spouse or your family, and you start scheduling some time that you have for self-care.
That's the key right there, the self-care. Self-care isn't selfish. It's integral to our mental health.
You're right. Again, I learned that years ago, about 12 years ago, when I had lost a lot of weight. And I remember thinking I was doing the right thing by giving everything I had to my family and my children. And I was really doing the wrong thing, because I wasn't the best version of myself.
But when I started taking care of myself, practicing self-care, I was a better person all over. I was better in all the roles of my life. I was just a better person. Yes, you're not being selfish. You're really helping others.
Any other takeaways you'd like to share?
Yeah, there's one more thing I'd like to really share. I think burnout comes for me, and I've been there, too. And I think it comes for me when I feel like I'm losing the passion for what I do. And when I start losing passion for my work or my life, my family or whatever, I have to go back sometimes and review the things that reignite my passion. So I might go back and read some of my old books that I highlighted all these things in about psychology or behavioral health or people or humanity or relationships, and it just gets me sparked up again.
It just gets me to realize why I'm doing what I'm doing, and my love for people. And I think we have to keep our passion stoked for what we're doing.
Oh, I love that. That's a great tip right there. Get reintroduced to your passion.
Gosh. Thank you, Monty. Oh my gosh, you were so helpful in giving us tips in managing our burnout, as well as really helping us understand what it is. So I thank you again for sharing your knowledge with us.
You're welcome. Thank you, Nikki. It's really been an honor to be a part of this, so thank you.
You're welcome. I would also like to thank the team behind the podcast, Jason Clayden, Juliana Whidden, and Chris Kelman. A special thanks to Jason Clayden for editing our episodes. Take care, everyone.