podcasts
"No Face to Anxiety" Campaign Recap (100th Episode) – Podcast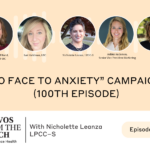 By Jason Clayden on September 27, 2023
For our 100th episode, we explore the 2023 award-winning "No Face to Anxiety" campaign, released in honor of Mental Health Awareness Month. Our guests, LifeStance providers Lori and Maria, provide valuable insights into the prevalence of anxiety and effective strategies for managing it. Later, we're joined by Ashley Anderson, LifeStance's Senior Vice President of Marketing, and Kate, one of the individuals interviewed for the campaign. They discuss the power of vulnerability and the importance of open conversations about mental health.
Together, our guests shed light on the diverse faces of anxiety, breaking down stereotypes and destigmatizing mental health. Kate's insights remind us of the strength within vulnerability, while Ashley emphasizes the crucial need for increased access to mental health care. This conversation is a testament to the resilience of the human spirit and the transformative power of sharing our stories.
Listen and Subscribe Here
Welcome to Convos from the Couch by LifeStance Health, where leading mental health professionals help guide you on your journey to a healthier, more fulfilling life.
Hello everyone, and welcome to our 100th episode of Convos from the Couch from LifeStance Health. I'm Nicholette Leanza, and for the first part of this special episode, I'll be talking with Lori Goldman and Maria Romanoff Rand, and we'll be talking about their role in the LifeStance 2023 No Face To Anxiety campaign. Welcome, Lori and Maria, great to have you on.
Interestingly enough, this campaign has been really successful and I'm so proud that we're going to be talking a lot about it. I want to just give a little bit more background to this campaign for those who aren't familiar with it. But originally in June of 2021, our No Face campaign was developed to encourage conversations about mental health as well as the stigma surrounding it. We know that mental health conditions can often be negatively stereotyped and portrayed, but the truth is these conditions have no one face.
There are tens of millions of faces and they can affect people of all races, genders, and socioeconomic backgrounds. For the 2023 No Face To Anxiety campaign, released an honor of May being Mental Health Awareness Month, we highlighted the prevalence of anxiety and how it impacts people in their day-to-day lives. To achieve this, some members of our own LifeStance marketing team approached 30 real people in the suburbs of New York City and invited them to share their experiences with anxiety.
I'm really excited to talk with you, Lori and Maria. You both provided personalized feedback to some of the people regarding their struggles with anxiety for this campaign, so we're going to have to pick it up from there and then talk more about that. Thank you both again. Let's start off with having you both tell us a little bit about yourself. Lori, tell us a little bit about you.
Yeah, sure. I'm one of the regional clinical directors of LifeStance's New Jersey branch called New Jersey Behavioral Health. My office is located in Princeton Junction, and I love what I do. I work with a lot of trauma victims and a lot of PTSDs, and of course, anxiety is a component of that. A lot of teenagers, a lot of members of the LGBTQ community. It's really a privilege to serve that role to somebody who's in need of assistance. Happy to be here.
Great, thank you. What about you, Maria?
Sure. I'm Maria Romanoff Rand. I'm a nurse practitioner, practice out of Weymouth, Massachusetts, which is just south of Boston. As another role, I'm the director of advanced practice nursing, so I work with our medical director on medical services throughout Massachusetts or LifeStance Mass. We're a pretty big site within Massachusetts with I believe 34 total offices right now. Pretty vast footprint.
Like Lori said, it is very exciting to have the ability to touch so many patients with so many faces as we work clinically, but also in our leadership roles to support our clinicians, do some training with other people to make sure we continue to offer services as much as we can, which is lovely.
Great, thank you. Let's talk a bit about our experiences working on this campaign. What was it like for you, Lori? Why don't you start this off?
Sure. I thought this was a really great concept because mental health over the past three and a half years in particular since COVID came to be has become so much more accessible with telehealth. I feel like people need to know that it doesn't have to be just for one person. It doesn't need to be just for young women or older men or any specific group.
To be able to reply to some individuals who are all different age ranges, all different backgrounds, it was really interesting. Hopefully we were able to provide some feedback that could prove to be a bit helpful for them. It was a little difficult not knowing their entire background, just working with a little snippet, but hopefully we were able to do a little bit of good for them.
Oh, I agree. Maria, what was it like for you?
I agree. It felt really good to be able to have those snippets and to give that feedback. I think the part I want to acknowledge is the people that came forward. I think the faces and putting their actual face with their story was really powerful with that mental health stigma that they just put it out there, which is great because we all know when we close our clinical door, we have everybody, all socioeconomic statuses, all families, all genders, all sexual orientations. We have it all.
But that doesn't mean those are the people that are willing to step forward and say, "I have anxieties." I put a lot of credit to our participants that were willing to work with us on this. I'm really proud of that. And then I think what was really poignant to me was not just the information that I put down, but I read back at everybody else's comments they made after this and it was really interesting. I'm a prescriber. As a nurse practitioner, I prescribe meds every day.
When I do little nuggets of therapy, our med visits have some therapy embedded, but I'm not a therapist, but to see the different clinical lenses that the three of us all came across was really interesting to me and just showed how different we can all be as clinicians and still be really powerful and meaningful to our patients. It's all valuable.
Yeah. Oh, I agree. I agree. Definitely powerful and all valuable too. Like Lori and I think Maria too, you're only given a little snippet. I found myself really overthinking because I wanted to be just right to really match the person and what their struggle was with anxiety. We only had so much to be able to put down to actually put it out there, but I know personally I was really trying to put out the energy for that person that I was writing that snippet for wishing them the best with how they navigate.
You're giving general without knowing them. There's general information there. No, I appreciate you both. It sounds like you both found that it was very rewarding to do, but also a little bit hard to do when you don't… Unlike one of my clients who might come through my door, I know them, I have a therapeutic relationship with them, so it's a little bit easier to tailor it to them. I hear you both on that for sure. Let's shift gears a bit and talk more about anxiety, since this whole campaign was all about navigating anxiety and how pervasive it can be.
Let's look at what are some common triggers for anxiety and how can individuals identify and address these triggers? Lori, will you start us off with that?
Yeah, sure. I think one of the biggest triggers of anxiety for anyone is really unexpected life changes. Just not knowing what's going to happen, how it's going to affect you, and how you're going to recover from it, whether that's something that's good or bad.
We see a lot of people who come in because they're about to walk a child into their world, and of course, that's a wonderful thing that they're very excited about, but it's also a very scary concept that all of a sudden there's a new human in this world that you're responsible for and you have to name them, which is a big deal in itself, and then watch them grow up and protect them.
It could really be anything, whether it's good or bad, and it's just important that we accept that. Sometimes it makes us feel a little certain thing, but that's okay.
I completely agree, but I use a phrase transition, so life transition, good, bad, any of them, are really triggers for anxiety. I think we all know we feel anxiety every day, right? You get out of bed in the morning because there's anxiety. I'd love to lounge there, but I have to go to work. When that anxiety that motivates you and moves you can transition and shift into something that's a little bit more paralyzing, distressing, overwhelming. I think especially post pandemic here, the powerfulness of this social anxiety that I think so many of us are feeling that people…
Introverts versus extroverts, very different path with the pandemic. The introverts and people that are already conditioned to have a little bit of social anxiety have a lot more social anxiety right now. That is something that I see really commonly in my clinical practice, even within my own home. I'm seeing that with my own family of how do we get back out there and connect with people and make new friends.
No, I agree for sure. I know my work with my own clients, anxiety is often the basis of many of my clients. I think just the tenement of a lot of therapy is looking at making them aware of the feelings of anxiety, helping them understand their triggers to it, and then what to do about it. I think that's the crux of it, and that's a look at many forms of, Maria, for you maybe prescribing medications that can be helpful with that. Lori, myself and you really looking at the coping skills or even some of the deeper therapy of what led you to be so anxious too with family dynamics issues.
I think there's so many facets to anxiety too. Maria, you mentioned something. I think we often think anxiety is negative, but anxiety is what gets us out of bed because I can't just lay. I got to get off. I got to do my job. I got to make some money. Also, we can look at that positive anxiety too that motivates us to do what we need to do.
But it can just pivot at times to be distressing, Lori's example of the new mom or new dad, new parent, that it's anxiety producing and hopefully you use that anxiety for good, not evil to be a conscientious parent, but it could be that you're so conscientious that it's distressing. You can't leave your child's side because you have to watch them for fear that a negative consequence will happen and now you're not sleeping and not taking care of yourself.
No, great point and a good point to transition to looking at science that someone's anxiety may be escalating, potentially requiring professional intervention, looking at when would that be. You gave a great example of that. If you're just so wrecked with just worry about your child and their health and their well-being, maybe that is taking it somewhere that's really just a bit too much. Lori, anything else you'd like to add about when maybe someone should seek medical intervention?
Oh, go ahead, Lori. Sorry.
We're so excited to give answers.
I guess this is important to me because I think of meds and I prescribe medication to people every day for anxiety. There's a different risk benefit analysis when you're doing therapy versus meds. I'm putting a chemical into your body and when do we actually do that. I have conversations with people of, okay. Again, every day I have somebody with anxiety. This is my level of anxiety, and we're like, do we intervene or do we not?
It is that I think we all deserve to have a high quality of life and we get to decide as individuals what that quality of life may be and how much anxiety that is comfortable for us, how much we're willing to tolerate. For me, it's a personal decision with my patient and my client of where do they feel distressed by this when it interferes with their life and their ability to have joy and happiness. That's the point that we really do need to intervene because we all have some anxiety. Just some of us have more than others.
Good point. Good point. Lori?
I think too a lot of people tend to wait until their anxiety gets so bad that it's debilitating. You don't have to do that. You don't. It's okay if you come to therapy because you notice that, all right, I get really nervous when I pull up to work. I start staying in my car for an extra five, 10 minutes. A couple of weeks later, okay, it's 20 minutes. Go to therapy then. Work on a treatment with your provider together.
Maybe you need to go every other week as opposed to every week. If further down the line discuss medication and putting in a referral to a med provider, there's nothing wrong with that either. I think a lot of people just tend to wait until it's so bad that they have to do something, but therapy could also be preventative as well. It doesn't have to be reactive.
Yeah, love that you emphasized that. You said in a proactive way instead of it being so reactive. I agree. I sometimes see people that they probably should have come to see a therapist a little sooner than waiting for it to be just so debilitating, like you said. Looking at some effective strategies or techniques you both recommend for managing anxiety, and I know this is where therapy and medication also play in. Actually Maria, why don't we start with you. Tell us about that role, some techniques you use in the role of medication and treating anxiety.
Absolutely. I'm very pro therapy. There are definitely prescribers out there that think you just need to take a medicine, fix the biology and that'll be better. But most of us with the anxiety, the anxiety starts long before the moment that you seek treatment. There is some therapy part that you either need to, like Nikki was saying, evaluate some of those family dynamics that led to some of this situation or the avoidance for work that you now have to get past.
I do think that it works best, and data shows that, that when we are treating anxiety disorder, doing therapy in conjunctions with medication is what is the best outcomes. There's a lot of data as we taper people off of medications, that's also a great time to reengage in cognitive behavioral therapy to make it more successful coming off of medication. I do believe very strongly in that.
The individual patient has to decide, do I want to work on the therapy and see how far I get in therapy and then either bring in meds, or I'm going to bring in my medication to release some of the anxiety so I can start working on therapy? I think there is from my perspective and a lot of therapists I work with that collaboration that we're working together as a team of how to make sure that we're both using different techniques to get to the same solution, but meds can definitely reduce anxiety.
The typical ones we're using our SSRIs or serotonin medications. They take a while to kick in, so this is another reason to not wait until you can't get out of bed or leave the house. That you want to seek some help earlier. Primary care providers are quite capable of getting people started on an SSRI if you're waiting connecting mental health services, so you don't have to wait until you have a therapist or a nurse practitioner, a psychiatrist to get you started on meds.
That's a good point because I think sometimes people don't recognize it that maybe just their general practitioner can prescribe that too. Yeah, I agree. Good to know that. Thank you for emphasizing that. Yeah, I agree, Lori, definitely. Definitely somewhere. Lori, what else would you like to share when it comes to strategies and techniques you use with your clients?
I think the most overlooked aspect of therapy, one of the most important ones, actually whether it's with your therapist or with your med prescriber, is making sure that you're being completely honest with how you're feeling.
If you can work on a couple of different coping strategies for a couple of weeks, then if you're making it seem that, yep, it's great, I'm feeling a whole lot better, but then you leave and you don't want to be "disruptive" or make the therapist feel bad, make us feel bad. If it's not working, It's not working. You come here. When you come here, I always tell the clients, you're the pilot. I'm just a copilot. If something's going wrong, tell me, so that way we can make it go. This should not be more anxiety inducing.
This should be helpful. If you don't like the way something's going, it's okay to speak up. We don't want to make you any more anxious. We don't want to make you do anything that doesn't work. We want to make things better for you and we know that you do to just let us know when something isn't going right so that way we can edit a little bit. There's nothing wrong with trial and error. Sometimes it can be a little frustrating, which is certainly understandable. It's okay to try different things.
I think it's emphasizing the point that you're a team. Maria, you're a team working on a team with your clients. Lori, you are. I know I am. It's a team approach to trying to figure out what would work for you doesn't. It's all with the same goal of helping our clients feel better and have a better quality of life. I think that's so important. I think sometimes clients, especially if they run pretty anxious, I think it's an assertiveness thing of, okay, I don't want to say that.
Maybe I was feeling better, but now I'm not. Maybe not wanting to speak up to say, hey, this isn't working. But I liked how you said it, let us know. It's about honesty, so important. It's helping them be assertive, giving them permission. Hey, give us some permission to be assertive to speak up.
Something that I ask my clients to do, especially if they're going to start some sort of medication is I ask them to keep track of their mood and their sleep. Just fill in a little calendar, color it. Blue means sad, red means angry, whatever you want it to be. Keep track of if you're sleeping from 8:00 to 8:00 in the morning, if you're waking up throughout the night.
And if you're noticing some positive changes, okay, maybe there isn't so much red, so you're not so angry, maybe there's not so much blue, so you're feeling a little bit happier. We have some evidence that shows maybe we're headed in the right direction. It's really interesting when you have people look back on it and say, "Oh wow. Yeah, this is pretty okay." It's also helpful I find as a therapist when I'm working with a med provider too, doing some consulting, then we can work together cooperatively and really be a little trio.
You talk about a team, I like how you said that, a little trio. For example, Lori, you had a client who maybe also saw Maria. There's the team right there, the client, yourself as the therapist, then Maria as the prescriber too. I'm forgetting about that aspect of how I've been working together too. Excellent point for sure.
There's a lot of really great apps out there, somebody's tech motivated. That helps pretty much any way you want to look at it. We'll track moods and sleep. Like you said, it's great to look back at that at the month and the day or the week.
I'm actually a big advocate of that. I'm glad you brought that up, Maria, because I think working as a therapist, you come to the session, but really a lot of the work is done outside of the session. Sometimes in the middle of night and your thoughts are spinning it and you're not able to fall asleep, there are lots of great apps that you could pull up. It'll help you navigate through, maybe help empty out your brain from the spinning thoughts, and then help you get yourself back, maybe doing a nice guided meditation to get yourself back to sleep.
Why not use our technology and the various mental health apps that are available to adjunctively help with therapy and managing anxiety. Thank you for bringing that up. It's an excellent point, for sure. Any other takeaways you guys would like to share about anxiety or the campaign or anything else? Maria?
Big one for me is I hope people keep talking. There seems over the past couple of years throughout my, I won't say how many years career, that more recently there seems to be much more momentum of everybody or lots of people being comfortable talking about their mental health in the same way that they would talk about their high cholesterol or their heart disease. This is not anything people are asking to have. There should be no shame in it. We're not going to find ways and strategies to support each other and to feel better if we don't keep talking.
Great. I love the conversation about your mental health is just as important as your physical health. I think that's so important that we're recognizing that. Lori, your thoughts you'd like to share?
Yeah. Just keep in mind, not one face to anxiety, not one treatment. We can make this work for you. You make it work for you. If something doesn't feel right, maybe it's not and it's okay to ask for help when it's not. It's okay. It's okay.
It's okay. Love that you're emphasizing it. It's okay.
Thank you both. Thank you, Lori. Thank you, Maria. Thank you for this amazing conversation as we're helping keep this conversation going. Thank you again.
For the second part of our episode, I'm excited to be talking with Ashley Anderson, our LifeStance Vice President of marketing, about how she came up with the No Face To Anxiety campaign, and with Kate, one of the individuals who was interviewed about her experience with anxiety for the campaign. Thank you both, Ashley and Kate, and welcome to this episode.
Thank you. I'm happy to be here.
Let me jump in. Let's get a little feel for both of you. Let's start first with Ashley. Tell us a little bit about your role at LifeStance.
Yeah. I joined LifeStance about two years ago or two and a half years ago at this point as the head of marketing. I lead all things public relations, creative, growth strategy, and in the case of this, the creative campaign, so the No Face campaign, worked with our creative team to lead this campaign
Great. Thank you, Ashley. Kate, tell us a little bit about yourself.
I am 51 years old. I am a mother of a 12-year-old and an 11-year-old, and I'm a video producer by trade. I started my career as a sports reporter and I focused on quirky outdoor sports like snowboarding and mountain biking. I did it for a number of years, and then I came to the stunning realization that even though I was a sports reporter, I actually really didn't like sports. I really liked the human interest side of the stories behind people trying to achieve their goals. That put me onto being a video producer who focused on testimonial video.
In the productions that we do, we never write a script. We discount on people to be really honest about the stories, and that comes in the form of nonprofit videos, corporate videos, and also high-end mini-documentaries that I produce with a great team. On top of that, I got involved in the healthcare space as a result of an MS diagnosis when I was 35 years old. I run the gamut. I think it doesn't really matter what section or sector you're dealing with when you're actually really just trying to get the honest truth.
And that is certainly something that made me super fired up to hear what Ashley was doing with LifeStance and with this campaign.
Thank you, Kate. That's amazing. Great background you have for sure. Ashley, tell me a little bit about what inspired your vision for this campaign.
This is an extension of our No Face campaign, which we originally launched in June of 2021. The No Face campaign was really developed to encourage candid conversations about mental health and ultimately to reduce the stigma around mental health. Mental health conditions may be associated with stereotypical images, but the truth is that these conditions truly have no face. There is no one face. There's tens of millions of faces. Every day we interact with people who are experiencing a variety of mental health conditions without even knowing it.
Really for this iteration of the campaign, we wanted to continue to destigmatize mental health by highlighting the prevalence of anxiety and really focused on anxiety and how that impacts people in their day-to-day lives. Almost everyone experiences some degree of anxiety in their life. It's actually estimated, I think, that 30 plus percent of US adults experience some type of anxiety disorder. Nikki, you would definitely know the exact percentage I'm sure.
For this campaign specifically, to achieve this, we organically approached people in their workplaces, on the street, really in the suburbs of New York and invited them to share their experiences with anxiety. We found that the answers that we received were extremely thought-provoking, relatable, surprising. And just in today's world, the level of honesty that we got from people was really incredible.
I thought this was such a brilliant campaign, Ashley, especially when I had heard that you were going out there and really talking to real people about their anxiety, either their everyday anxieties or their long-term anxiety. I just really love this campaign. As we dive in this a little bit more, Kate, share with us a little bit about your own personal experience with anxiety.
I actually grew up with a family where my mother's side of the family had a lot of bipolar disorder in the mix. I had a grandfather who was wildly manic, who probably was never treated. I had an aunt who was institutionalized in a institution for over 10 years, and my mother herself is bipolar and is on lithium to manage it. When I was younger, the way that all looked to me was my crazy family. That was what we spoke about, and we used crazy in the sense of to what Ashley speaks of, what does "that," somebody who deals with anxiety or a mental health issue, what does it look like?
When I was a kid, the "crazy" was just wildly fun and excited and really thrilling to be around. In some ways, only when I got older, when I really got to understand my aunt and when I actually used to go visit her when she was mentally ill, did I start to see what that could look like in terms of a spectrum. For me personally, I think I grew up a really lucky kid. I had a lot of opportunities. And throughout it, I certainly had some disappointments.
I'll just give you a silly example, but applying to college and not getting into my first choice college when all my friends got into their first choice college, to me just felt absolutely terrible and certainly anxiety inducing. In those moments I think of starting to recognize negative feelings in a positive life, I think we're really good door opening to recognizing that the world isn't always easy, or it doesn't always go the way that you want. I think that for me amplified as I said when I was diagnosed with MS and I turned 35.
At that time, I was single. I was living in New York, and I thought my life was over. I think in the face of an unpredictable illness, there's so much uncertainty, and that can really ratchet up how you feel in terms of anxiety. That's I would say when I really started getting a real sense of the severity of how thoughts of the unknown and the what ifs of life can completely derail you. I would say that was a real moment of pause that I had to get through.
But that's where I would say I think everybody can relate, as Ashley said, to having disappointments and everyone having different moments of anxiety. I think as you go through your life, you do have different levels. But I would say for me, there have been moments where I've really been significant enough that I've really had to pull out of my life and really think about what I was going to do about it.
Kate, I really appreciate how you mentioned just the uncertainty of how that could really just ratchet up someone's anxiety. That's often what I see with my own clients as we're helping them navigate their anxiety is that the unknowns, the uncertainty is the thing that really drives that anxiety up even more. It sounds like you have personal experience with that and just thank you for making note of that as well. What are some things you do, Kate, to help yourself navigate your anxiety?
In as much as uncertainties bring up a lot of what ifs, I think that in as much as you can say, "What if I'm going to be in a wheelchair in five years," you can equally say, "What if you're not?" I'm a huge fan of the reframe.
I fancy myself a reframing Jedi. I'm married to my husband. We're so happily married. I'm like, for now, or just putting things into context. I really believe in the power of the present. I think accepting where you're at in the moment is hugely empowering. If you're in that moment and it's not going well or you feel terribly to actually be like, today is not my best day, and owning it instead of fighting it. I would say that's been really helpful. I think reflecting is hugely powerful. I'm a huge person who has journaled a lot in my past, writing about it and coming to terms with it in terms of your fear.
Julia Cameron has an incredible book called The Artist's Way that talk about morning pages where the exercise is before you even get out of bed, you write two pages of what's on your mind. It can be, I don't want to write this, I don't want to write this. Anything you want. What ends up happening is you start writing down your fears and you flood yourself. If I'm scared, I'm scared, and you can think further, right?
Yeah. Because even if you're starting off okay, not even sure what to write or whatever, eventually you will start going and you will often be putting down what you're very much afraid of and what the anxiety's looking. And that is flooding. You're exposing yourself to it. Excellent point, Kate.
Yeah. I think that's been really helpful. With my MS trajectory, I ended up deciding that I was going to launch an online moment sharing platform for other people living with MS to really lay out the moments on how they felt during the journey, and I really began to see the power of that, and the organization was called My Counter Pain. We did an MS community, and then we launched a mental health community.
In as much as I can speak about what I learned in my own anxiety, I would say that some other things I learned watching people who had more pronounced mental health disorders. I'm not on any medication. I certainly met a lot of people through my platform who were. I think the biggest takeaway I had from there in terms of tools was actually learning to have a toolkit and using those tools in moments, whether it's DBT or whether or not it's breathing or whether or not it's reframing.
The people I saw who were the sickest, the way they managed themselves is they made themselves and their self-care a priority. They actively used their tools and they really took care of themselves. Nobody was going out for four hours of sleep going out to a bender. They were like, look, my sleep is super important. I honor that. I own that. I know it keeps me calibrated. When I'm stressed out, I make a choice to breathe for 10 minutes. When I'm stressed out, I use an exercise that my therapist told me about.
That was probably the biggest takeaway for me in the realm of anxiety, is how much you can do stuff against it. Wonderful way that calms it.
Oh my gosh, I love that. In fact, right now, Kate, you're sharing just so much of the formula of how to navigate anxiety or just navigate you fill in the blank of having a toolkit for it, doing self-care. Part of that toolkit might be even how to reframe it. I love that you said you're a reframing Jedi. Love that. Love that. But I think a lot of what you're sharing here that you use to manage your own anxiety is a great formula that many people can learn to use and do on their own too. My gosh, thank you, Kate, for sharing all that. What was your experience like working with LifeStance on this campaign?
Again, I'm a huge fan of throwing it out there and being incredibly public. I think that LifeStance's choice to be like, let's try to find people who will actually talk about their anxiety on camera is amazing. I think when people observe other people throwing it out there in the way that Ashley and her team allowed people to do it, I think they're inspired by it and I think it kind of empowers others. And that's what I found through this moment sharing platform that I created.
It was like the more vulnerable people were, the more appreciative the people around them were, not only to support that person, to help them, but also to make the person themselves feel empowered. I love the diversity that Ashley found. In light of what I heard from those people, it was just really nice to see that no matter what you look like and who you were, everybody has something that they're concerned about. I thought it was awesome, and the photographs were absolutely beautiful too.
Kate, we have a lot in common, one of them being that we both think Ashley's amazing, especially in how she came up with and facilitated this campaign. Back to you, Ashley. With that, what do you hope will be the long-term impact of this anxiety campaign?
Thank you, Kate, for all of your great detail. I definitely learned a lot more in the past few minutes than I did on set that day. Really interesting stuff. I think the main message that we want people to take away from this campaign, and I really wish I could broadcast it everywhere because I think it hits on what Kate was saying, where the more people are open to exposing themselves, the more other people will be open to exposing themselves and not being so closed off. I think one of those key messages is that there really is no one face to any mental health condition.
That includes anxiety. That includes any condition. You see someone walking down the street, you think, "Oh, they have an eating disorder. Oh, they're suffering from depression." You could be right or you could be wrong. There's really no one face to any of these various conditions. I think at the end of the day, the goal of this work is really to work toward ending the stigma around mental health conditions and ultimately increasing access to care. At the end of the day, we also really need to increase access to care, and that's something that LifeStance is doing day in and day out.
Ashley, I definitely see your passion with that. Thank you.
One thing I just wanted to add, Nicole, if it's okay. I think it's also worth recognizing the opportunity that LifeStance gave in that moment and beyond that actually making the choice to share makes you feel so much better. That in itself is a tool. I'll say to my husband, he's like, "Are you about to have a moment?" I'm like, "I'm having a bad day," and he's, "Okay and it's flush it out. Let it come out." Once it's out, there's a whole different feeling. I think that's worth honoring as well.
And clearly my dog agrees.
Kate, what message do you hope to convey through your participation in this campaign?
I just want people to believe that they are amazingly strong people, even in the moments that they feel weak. I think that's a powerful thing to recognize that life is not always linear. It's up and down, ebbs and flows. There are times on whatever that cycle is of needing to retreat and be gentle with yourself, find people that love you, that support you, believe that small steps are big steps, and recognize that in itself is powerful to go bigger.
I also think it's important to recognize that there are certain levels of anxiety and depression and issues that are chemical. I think a lot of people, people that don't understand depression, and I barely do, but in terms of recognizing through the people I've spoken to and the research I've done, that there are people that can't get out of bed because they have a chemical issue period. And that it's not a will thing. It's not a tri thing. To what Ashley says, getting proper care is huge.
I cannot tell you how many people I have met through my own experience who have found access to care, who have gotten people in place, whose lives have been utterly transformed, whether or not it's taking medication, whether it's therapy, whether it's learning tools that have really changed them. I commend LifeStance on that effort of getting people in the door and making it easy to do it.
My gosh, thank you, Kate. Let me say thank you, Ashley, as well. Thank you both for being here and sharing your knowledge and sharing your passion. It's so apparent to me. This is what LifeStance is about. This is what I think as we're all trying to work towards destigmatizing mental health, this is what it's about. I thank you both again, Ashley and Kate.
You are welcome. I'm glad to be here.
Thanks for having us, Nicholette.
Yep. I'd also like to thank the team behind the podcast, Jason Clayden, Juliana Whidden, and Chris Kelman. With a special thanks to Jason Clayden, who edits our episodes. Take care, everyone.