podcasts
Eating Disorder Awareness – Podcast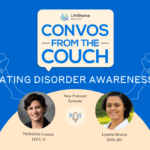 By LifeStance Health on February 28, 2022
Eating disorders affect an astonishing nine percent of people worldwide.
LifeStance provider and Registered Dietician Lynette Broom discusses how to recognize an eating disorder, diet culture and treatment options.
Hello, everyone, and welcome to Convos From the Couch from LifeStance Health. I'm [Nicki 00:00:15] Leanza, and I'm really excited to talk with Lynette Broom today, a registered dietician who's going to help us understand eating disorders. Lynette, welcome. Can you tell us a little bit about yourself?
Yes. Thank you so much for having me, Nicki. I'm happy to be here. Just a little blurb about me. Lynette Broom. I am located in Southern California, so I work in the north Orange County area. I am one of LifeStance's… I think I'm their only dietician in California, which is unique. I have the ability to connect with a lot of really cool therapeutic minds and people within LifeStance. And I specialize in eating disorders. So, we'll get into that in a little bit, the different types of eating disorders, our spectrum of disordered eating to eating disorders. And I work too quite a bit with people of color and women of color in bringing them into the fold of diagnosis, and access to treatment and things along that line as well. Those are my little areas I work in.
You definitely sound like you have lots of knowledge around this topic. I definitely appreciate that.
To kick us off, can we start by talking about the various types of eating disorders?
Yeah, definitely. We have some like the big three, I would call it, with eating disorders that people are pretty familiar with. We have anorexia nervosa. We have bulimia nervosa, and we have binge eating disorders, abbreviated as BED. Those are our big three that we know, we have the most research about, we know the most about, that often get the most diagnoses. We have others though that are a little bit more rare that we don't see as often, but things like Pica and things like ARFID, which is avoidant restrictive intake disorder. And Pica, of course, is the desire to eat non nutritive substance, substances, but are categorized within that spectrum of eating disorders. Those are the big three that people are most familiar with that we hear the most about.
With the ARFID, can you just tell us a wee bit more about that? Because I think out of the ones you're describing, most people probably are familiar with the other ones, but maybe not the ARFID, I believe. Can you tell us [crosstalk 00:02:22] about it?
Yeah. People with ARFID, more times than not, they will experience maybe significant weight loss, and maybe some malnutrition and or nutrient deficiencies. But based around, not necessarily the desire for weight loss or the desire or the fear that comes with anorexia nervosa of being overweight or what would be perceived to be overweight, their restriction is usually tied more to, it can sometimes be textural things. Sometimes, it could be maybe some trauma or things that happen as a child or some negative experiences they had connected to food and intake that are more texture or just other things connected to restricting food, not connected to the fear of weight gain and the desire to be extremely thin that we see accompany with anorexia nervosa. The intention there is not the same. But we see some of the manifestations with significant weight loss, nutrition deficiencies, and things like that.
This isn't merely an individual who is just a picky eater. It sounds like it goes even more beyond that, especially if there's malnutrition happening and stuff.
Yeah, definitely. Avoiding foods, sometimes groups of foods. Sometimes, there's a correlation we've seen too with individuals that have diagnosis with autism too, with just wanting to avoid certain textures or color, sometimes, can be a thing for people. It's more in alignment with that than not wanting to gain weight or fear of weight gain.
Gotcha. Gotcha. Thank you. That's very helpful in explaining [crosstalk 00:03:55].
Now, speaking of difference, wanting to how people understand the difference between an eating disorder and disordered eating. Can you help us understand that a little bit more?
Yeah, absolutely. And so, I know for a lot of clinicians too, as we're gaining more knowledge around eating disorders, and it's just become more prevalent and just more discussed, because it can still be very taboo just within the larger culture, and then, just even within one's own individual culture as well. We have more information about eating disorders in general. But you will know that, well, we think about eating disorders, disordered eating kind of on a spectrum. And so, with an eating disorder, we have clear diagnostic criteria for an eating disorder. So, you're experiencing these certain symptoms so many times a week over so many months. And then, we have defining criteria within each type of eating disorder. Versus disordered eating, it doesn't cleanly fit necessarily into one of those diagnostic criteria, with anorexia, bulimia, et cetera. But there are definite things going on it. What you'll see a lot of times is people that may weigh their food, may excessively count calories around their food. Orthorexia isn't an official diagnosis yet within the DSM, but we see a lot of those behaviors associated with orthorexia.
Can you tell us more about what orthorexia is?
Yeah. Orthorexia, you see a lot of things, with a lot of conversation or dialogue around very clean eating or purity around eating. There's lots of restriction that happens of entire categories of food sometimes, or the obsession sometimes with organic eating. Very, very rigid. Lots of rigidity around time, around quantity, around calories. And so, we find people that are ascribed to this more orthorexic or could be defined as orthorexic, we would definitely look at that as disordered eating. So, it doesn't really fit cleanly, but definitely some things going on there, just behavior wise.
And it's making me think at times that I've worked with clients who maybe an issue with coming in to get help with anxieties or depression, things like that. And as we were continuing to meet with and talk about things, that I would come to soon realize that there's would be truly what I would see as some disordered eating going on. And how it was hidden in there that when I first met them, wasn't aware that those issues were coming about, but then ,really saw it sneak in as I continued to meet with them. I do find that that's something that you've navigated before or heard of?
Yeah, definitely. And so, a lot of our chronic dieters too, would fall in that disordered eating kind of space. And so, a lot of times clinicians, there'll be some shock sometimes where maybe it'll come up, maybe they're coming into a 2:00 session, and they haven't maybe eaten anything. And maybe they're not able to maybe really be present, and do the work and things like that. And maybe that comes out and you're like, "Wow, that doesn't feel like that's in alignment with just healthy eating or having a healthy relationship with food." And once you dig a little deeper, there's a lot of connection to lots of other things tied to maybe why they're not eating or restricting, if that's what they're experiencing.
I think we can't have this conversation about eating disorders or disordered eating without bringing up just societal pressures. Because [crosstalk 00:07:26] at celebrities and their influence or social media. How do you go about guiding clients with navigating just those pressures?
Yeah, definitely. Diet culture is huge. And I think so much of what's happened as we've continued to move forward is there's this feeling of wanting to be "healthy," whatever that means, but just so much pressure and so much focus in defining now almost as dieting being a lifestyle thing. That's like a big marketing now. We have something like a Noom, which is huge, but their entire marketing ploy is this idea that we're doing CBT, and these are lifestyle changes, anything that's requiring you to count, and quantify and measure your food is that's just a diet marketing marketed in a different way. But a lot of that language has been collapsed in with the diet. And it's very tricky, and it's hard to navigate for people.
For sure. I think you mentioned Noom?
Is that an app? I believe that's an app. I've heard about it. [crosstalk 00:08:30].
Do you know much more about the app?
They do a lot of real flowery language that it's like, do you really have the professionals in that structure that can really… You know what I mean? Because these are treatment modalities from licensed professionals that have a lot of experience, but they're throwing around words like CBT, and lifestyle change and things like that. But essentially, you are logging your food. And the entire connection is that you're not good as you are, and you need to lose weight, if we're just being honest [crosstalk 00:09:02].
Yeah. No, we're being honest. You're right.
That is the driving force of that. And that in itself is problematic. That one has to change your size to have value. And so, that's the crux of what that… It's a diet, you know what I mean?
Yeah. No. And I appreciate your candor.
No, I think if you're going to either participate in an application like that, also be mindful of that it's not a replacement for true cognitive behavioral therapy and things like that.
No. No. But it sounds, to an untrained ear, oh, this sounds great. This is totally different. This is not. This is not a diet. It absolutely is. You are calorie restricting, more or less, and masked as being mindful. And there is a place for mindfulness within eating, but it's not counting calories, and measuring, and putting your weight in and things like that.
I hear you. I think the beauty industry would topple if we all just knew that we were already good enough, and beautiful enough and all that. I think if we had that message and organically, it would make such a big difference that we'd probably crumble that whole industry.
Yeah. The basis of the diet industry is that people are not successful. With the objective of being weight loss, if people were "successful." Right? It would cease to exist. So, their business is built on people not being successful.
Right. Right. Isn't that interesting? And I hope this really opens the eyes up to a lot of our listeners and viewers to think of it from that perspective, for sure.
Definitely. Definitely. But like you said, the bigger thing, the silver lining in it all is your value is not inherent in the size body you exist in in this world.
Right. Right. For sure. Now, shifting gears a little bit, can you tell us a little bit about what is intuitive eating?
Yeah. Yeah. Actually, two Southern California dieticians were the ones that coined this term. And it's just been this huge phenomenon. Most of our treatment centers in Southern California for eating disorders really absorb that and use that in their treatment. And so, it's this idea that there's no such thing as good and bad food. We have food for different reasons, to nourish our body, food for pleasure, looking to value ourselves outside of our size, looking in… And just even the language. Not exercise, so much as movement, joyful movement. What does that look like? And so, there's 10 guiding principles around that. And it just allows people just an alternative, reality to diet culture. And really connecting to the fact that we naturally start as intuitive eaters as children. And it's not until we have external noise and influence that we start even questioning this idea of hunger, and fullness, and body size and all of these things that diet culture shoves on us. Really an alternative perspective and just mindset to dieting and diet culture.
I love that. I love the idea of just joyful movement. I think the idea of thinking back to size is the association with it of… But when you say, "Let's do some joyful movement," I'm down for some joyful movement. That sounds amazing. Yes.
Completely different, completely different mindset.
Completely. And ultimately, it is exercise, but if you're doing it joyfully, you're wanting to do it. I think what a great mind shift and mindset for sure.
And it leaves space for every bodies and diverse bodies too. When we talk about things, as far as movement, we think about people that have different abilities and different capacities to move. What does that mean to be inclusive of people that have different capabilities too?
Excellent point too. Very excellent point. Now, tell me what factors might inhibit some people from maybe seeking eating disorder treatment? Or even disordered eating treatment.
Definitely. I think access is a big thing, when you think about access to resources. Location is a big thing for a lot of people. When we think about eating disorder treatment centers, just location for so many people. For a lot of people of color, unfortunately, that exists in maybe certain areas of certain neighborhoods, that access is not… There are not treatment centers necessarily location wise that are accessible. And I think just a larger kind of understanding too, that it's still very taboo, especially once you break down different… Within different cultures. It's very taboo to have an eating disorder, to talk about food. Different cultures talk about food and bodies differently. And then, I think too, just from a professional perspective, just the under diagnosing that happens. Seeing an eating disorder or our idea, perhaps sometimes, of an eating disorder looks a certain way. So, if somebody doesn't present, even gender wise-
… certain way or certain look that we think an eating disorder is, not even screening for that or looking for that. So, that's significant.
Great point for sure. Can you walk us through of how you might help your clients navigate their eating disorders or disordered eating, specifically of what you had them do?
Yeah. What was the second part?
Just what you have them do. How is it that you're supporting them? What do you have them do? Are you looking at food and menu stuff? Are you looking at just teaching them intuitive eating? [crosstalk 00:14:38]?
Yeah, so absolutely. It depends on at what point of the spectrum, and treatment and things the individual is at. I think my general approach is similar with everyone. I think you definitely have to come from a place of cultural competency and understanding the diversity of the individuals that you will see that present with disordered eating or eating disorders. But my treatment in general is the same. We definitely talk about food. I talk about food more in space of like a meal structure. And depending on where you're at, as far as if you are really deep in an eating disorder, that's going to look a little different. That may require a little bit more structure, depending on what type of eating disorder.
But generally speaking, we talk about things as a meal pattern, meal patterning. What is our patterning that we're having around food? I always tell people. I'm a dietician, right? So, I'm never going to tell you not to eat fruits, and vegetables and things like that. That's not really the problem. It's more so to exploring what is your relationship with food? What is your understanding of food? What is your historical family understanding of food that you are dealing with? What will be sustainable? I think sustainability, when I work with folks maybe that are on a disordered eating kind of space. Because anyone can go online and find a meal plan. So, it's not necessarily about that. It's about understanding your relationship with food, what will work for you, what's sustainable? And I never take anything off the table. I always say like, "I'm an addition dietician, not subtraction. So, whatever we're doing, we're going to add to what you're doing and enhance it. We're never taking anything away." And I think that's really important.
I think a lot of the key, what I hear you saying, is helping a person maybe change their maladaptive relationship with food.
Even things that maybe they grew up with and just as a family dynamic of a unhealthy relationship with food. I think that's your main thing, looking at patterns and looking at how to change that relationship, it sounds like.
Yeah. Always starting there, and then, always starting from a place of positivity and self love. Because we can't hate ourself into changing. If that's our departure, that doesn't feel good, and we're not going to make any progress. So, how do we start from a place that I'm good enough as I am, but there are some changes I'd like to make? Wonderful. Let's talk about what they'll look like. And it's not going to be a calorie-restricted diet where there's all these can't, can't, can'ts. It's like, "No, what do we want to enhance? What can we add?"
And it's interesting because I think people do come from a perspective of just feeling guilty or beating themselves up, just really lacking self compassion. So, it sounds like what you're emphasizing of being gentle with yourself, being compassionate with yourself.
Emphasizing the self love as opposed to restriction and negativity.
Absolutely. And so, always starting there, and that takes quite a bit of time. A lot of times, people think of a dietician like I'm coming to you, I want to accomplish X, or maybe it's I want to lose X or whatever it may be. And we don't get to that for maybe ever because that's not really what my objective ever is with people.
May I ask what led you to be interested in becoming a dietician?
Yeah. I'm a food person, as most dieticians are. And I did in my nutrition degree, this is actually my second degree. I knew I wanted to be a dietician early on. I got a little scared when I saw the course load with biochem and whatnot, but I came back around to it. I just love food. I love what food's able to do. I love the connection. I think that's a big part too. A lot of the work that I do with people too, is this idea that food is connection. It's a social connection to people. It's a shared history with people. Food should be happiness, all these positive things that are associated with food. So, I love this idea that food has the ability to connect people. And it's a cultural story, if you will, at times. And just traveling really exposed that for me quite a bit too. And so, that to me, is really meaningful and really powerful. So, I like to really try to bring that to my clients.
Just bringing up like just traveling, when you see how other cultures celebrate eating and taking their time with it, and it's really a whole thing. I think in our American society, it's just something that's just quick sustenance that's kind of shove it in and go. And so, that really fast forward food idea. And being Italian, of Italian decent of really looking at sitting down, having the meal, enjoying the meal, enjoying the company of the meal is so key in just helping your relationship with food. It adds that connection, for sure. Any other takeaways you'd like to share with our listeners and our viewers about eating disorders or disordered eating?
Yeah. I think the biggest thing that is just so important for people to know is that eating disorder, there is no kind of poster child, if you will, for what an eating disorder looks like. And so, a lot of times, people that exist in different size bodies, maybe larger bodies sometimes, are glossed over and not seen as, well, you don't have an eating disorder or disordered eating because there's this idea of what an eating disorder looks like. Really just opening our mind to what that looks like. And again, the focus with food, unfortunately, so much in our culture is intrinsically tied at this point to the size of one's body. Really just detaching that piece to how you exist in your body has nothing to do with what you eat or what you don't eat necessarily. I think those would be probably the two biggest things. There is no one look of an eating disorder and just really disassociating this idea of food and intake with one's body or body size.
Love that. My gosh, Lynette, thank you so much for sharing all your knowledge on this topic. And I think your statements in helping your us even shift our view of what disordered eating is, what eating disorders are, or just our relationship with food is just so key to help people maybe make those steps to change their own relationship with food and stuff like that. So, I thank you again for coming on and educating us [crosstalk 00:20:48].
That for having me. Thank you very much.