podcasts
Perinatal Mental Health – Podcast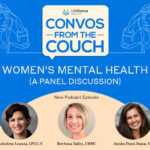 By LifeStance Health on May 10, 2022
LifeStance Health's Chief Medical Officer Anisha Patel-Dunn and Executive Clinical Director BreAnna Talley help break down the importance of Perinatal Mental Health in our latest episode of "Convos from the Couch."
Hello everyone. And welcome to Convo from the Couch by LifeStance Health. I'm Nicki Leanza and on today's episode, I'll be talking with our chief medical officer, Dr. Anisha Patel-Dunn, and our executive clinical director, BreAnna Talley about the importance of perinatal mental health. So welcome. Great to see you both on today.
Thanks. Great to see you again.
Dr. Patel-Dunn, tell us a little bit about what you do for LifeStance.
Sure. Thank you for having me. Anisha Patel-Dunn, I live here in the East Bay of San Francisco and I've been practicing psychiatrist. I started my training in 2002 and have always had a special interest in women's mental health. So it's always been something that I've focused on here and really, especially this perinatal period is so critical. I'm really excited to be talking about that.
Thank you. And BreAnna, tell us a little bit about you.
Sure. I started in the field about 2009 and perinatal mood and anxiety disorders have always been a hot topic for me. During my master's program, it was a focus of a proposed business plan I put together where I ran through all the stats and really understood what the need was in our communities.
Great. And I think that's such the key point there, just what a need for it. The talking to have this discussion. And in fact, that brings me to a statistic I found for the National Library of Medicine. So just looking at the United States, one in seven pregnant perinatal women suffer from anxiety and depression. And then we find that only half of these women actually seek mental healthcare. Mainly what's keeping them away from seeking mental healthcare is the stigma or just poor awareness of mental health. So I think that just emphasizes the need for this conversation too.
Absolutely, we had the most recent stat I could find was about 3.6 million births in the United States alone every year. So if we look at that, we're looking somewhere between six, 700,000 women with perinatal mood anxiety disorder issues. And if only half of them are getting treatment, what 300, 350,000 women not being treated annually.
Right. So when you put it that way, it's like, wow, just hearing that number. So BreAnna, tell us, can you start us off by telling us what perinatal, easy for me to say, perinatal mental health is and why it important?
Sure. Well, there's a variety of facets to it. Some of it is preparing for childbirth. Some of it is during the pregnancy period. And then of course in the postpartum period. And I think most of us hear about postpartum depression. But there's a whole variety of mood and anxiety disorders that can be exacerbated or have a first episode during that perinatal period. The most common one we hear is about depression, which is very, very important, but there's also, anxiety, there's OCD flareups. And then of course the one that everyone's afraid of postpartum psychosis.
Yeah. For sure. Dr. Patel-Dunn, anything you'd like to add to that?
Yeah, sure. I think generally speaking to the pregnancy period, and then it's usually considered up to one year after. So I think that just thinking about not forgetting about our moms who even may be just managing here right after delivery, but that they can really have some sequelae up to one year after is how we sort of think about it. And then absolutely in thinking about some of the most severe is that untreated, even a postpartum… Untreated depression or anxiety can also even lead to the postpartum psychosis is what we generally call it where it can be very scary for both mother and loved ones around as well as worrisome for the infant and the baby.
And I think you both bring up such a good point of looking at this period of time, it's more than it could be more, it could manifest more than just depression. It can be these others of anxiety, even OCD or psychosis and stuff. And then Dr. Patel-Dunn, you making note of that, it could be up until a year after. And I think that's another thing that maybe people don't recognize, I think it can last much longer than just maybe a few weeks after maybe giving birth or something like that. So I think both are very key points.
I think to add to that, just to clarify, it's not that it may last up until then it could start 10 months after delivery, 11 months after delivery.
That's an important piece, we're not screening new moms well enough. It's been pretty exciting to see the changes in the field. But one of the things that I had suggested in my business plan so many years ago was where do moms go with new babies? They don't go take care of themselves anymore, but they go to the pediatrician with that baby. Screening them with perinatal mood anxiety disorder screeners at the pediatrician's office is a way to catch them. And that has actually started happening some, and I know that LifeStance is trying to partner with those pediatrician offices. But the piece that I think is important to mention here is that it's actually very important to treat mom and or dad. This could be occurring with the father as well. It's important to treat them because if we don't, it increases the risk for diabetes for a whole host of conditions for the child. When we don't treat mom, it turns into lifelong chronic health conditions for the child.
Dr. Patel-Dunn, anything you'd like to add to that?
Yeah. No, I think it is so critical that it impacts the whole family unit. So making sure that we think about mom, but also the partner, other caretakers that are involved, closely involved at home. I do think too, this screening, universal screening is something that, we are also in some areas trying to partner with OB GYN's. So we know moms go in after delivery for a check with their OB GYN. And then you're right, as Bre says, the pediatric appointments are very regular and scheduled. There are ways that if we can catch this really early intervention is so important. It's so critical for bonding of mother and child and all caretakers really at home and child. But then the impact of a mom who may be suffering really does show long term problems with the child though. It's so critical sort of early intervention.
Yeah. That's the key. For sure.
And one thing that I just want to note, for my moms that have come to me that maybe have been contemplating having a child and they have a preexisting anxiety or depression. Those are moms that are most vulnerable, that the prevalence is higher in them for having some postpartum anxiety or depression when they have kind of pre periods in their life. And I think that's something that even just women out there to recognize and to know, but that's something that's so important that I love to have the partner and the mom before delivery, just to talk about here are some signs and symptoms, really just thinking about anything unusual. Obviously when the baby comes home, there's a lot of sleep deprivation, but when you're able to sleep and you're not sleeping. I think sleep is such a critical part here, regardless of the anxiety or the depression. Any changes in behavior of mom, but also making sure that we're getting mom, her sleep. And if she's not, we need to address that very quickly.
Yeah. I'd love to just piggyback on that. Anisha, so many times I've partnered with different OB GYN clinics and either helped consult with them on some of the new mom classes that they attend prior to delivery, or actually go in and do a presentation in one of those, for them on the importance of sleep and working with their partners or with potential family members that may be able to come over and assist. They have to get sleep. They're not a computer, they're not a robot, they're a human being. And just because baby is awake all the time, doesn't mean that mom doesn't still need solid sleep. And that is definitely one of the first things that we look at when someone does come through to us for postpartum or even perinatal condition is how much sleep are you getting.
One of the best ways to prevent that is to ensure that they have a sleep plan ahead of time. Who's going to sleep when. So who's working, what time are they working? Who's going to be sleeping at what time? Do we need additional support from family, friends, caregivers to come in and care for the baby at some point? So mom can get regular sleep, especially if they have a preexisting condition it's so much more likely to trigger another episode or exacerbate their condition.
And I love that because it's being proactive on how to tackle it and how to navigate that. And I don't know if people necessarily think to do that. So I love that idea of the sleep plan. It's a great idea. What other symptoms might manifest during this time or this period for women? Part of this question is it's a bit broad because it might be more tailored towards, is it anxiety? Is it depression, but is there just general symptoms that we might see popping up during this time?
Yeah. One thing I just want to note is for pregnant women, we've been talking a little bit about the postpartum time period after delivery, but pregnancy for all women can be anxiety provoking. And I think it's so important to just make note that if at all… It's normal first time moms to not know the uncertainty of the unknown. I think that often we all come with our own personal childhood experiences of how we were raised and our own memories of that. I think it's just important to note that if you are at all, having any type of anxiety or concern about what's pregnancy going to hold after delivery, what kind of mom you're going to be like, what kind of parent, reach out, get some therapy. It can be so helpful, especially in that time period. I guess the message here of like, it's so easy to just get in for some therapy to really talk through some stuff and that also can be preventative and that then you've got a connection with a therapist regardless of how long you're seen. So just wanted to make note of that.
That's a really great point. Could you also talk a little bit about patients that are already taking medication for bipolar for major depressive disorder, generalized anxiety disorder and you know what, I know there's a lot of concern right around, can we take Tylenol? Can we take Zyrtec? When it comes to our prescribed medications, people tend to get a little bit more anxious just about the medication. So love to hear a little about that.
Yeah, absolutely. And I think that's something also conversations I often have in focusing in this area, myself with my patients over the years. Is that, it's really important if you are taking medication to have those conversations with your psychiatrist, with your primary care, clinician, your OB GYN, there are definitely… Especially with antidepressants that the continuing on to take them during this time period can be really protective in preventing against the sequelae of postpartum as we talk about depression, anxiety, and even the psychosis that can come. And there are certain illnesses, that we've seen and that you talked to, bipolar as well, so depression bipolar, where it is something that I just very much encourage people to have a conversation with their clinician who's prescribing the medication at such a critical time.
And that, for some people, it may make sense to stop if they're doing well and they want to, for whatever reason. But I do think for a lot of women, it's really giving them permission to take medication that's going to be helpful for them and really looking at the class of how the FDA classifies these medications. And one website that I think I… Women's mental health.org is a website through mass general. They do a wonderful job, both for clinicians, as well as moms on just questions around pregnancy breastfeeding, post that whole time period. I do think there are also certainly medications that are considered less risk. So that, for example, for bipolar, depending on what medication you're on, you may consider changing to something else that may be less of a risk.
And it's always a risk benefit kind of discussion that I think is so important to have. And to make note too… And I just want a little bit, because I feel like I find myself with a lot of my moms with the breastfeeding that sometimes they feel so much guilt. And especially when someone's really struggling with postpartum, some of that is they're really trying. And I do think there's a lot of benefits to being breastfed, but I always share this with my patients, because for me, who I was born in the seventies and I actually was premature and ended up in the NICU for four weeks before I got to go home after delivery so I was not breastfed. The reason I share that is I definitely think there is very much of a benefit of being breasted, but sometimes it is so difficult for the mom and it's really impacting mood, anxiety.
Just to give people permission, our moms, that sometimes that your mental health is very important. And you can still have that bonding with your baby in a lot of different ways. And that's also something for our dads and partners, sorry, other partners that will be there. That being able to hold the baby, have time feeding, whether that's, however, that is that there's just important that after delivery, it feels like the baby is just so dependent on the mother. Then I think the partner can also feel a sense of inadequacy as a sense of low self-esteem because they feel helpless and hopeless, so to speak, because they can't do anything they feel like… And it's not true. Also, remembering there are great things that need to be done. Getting food, doing laundry, readying the dishwasher, washing the dishes. I think that's something that people always feel like the caretakers around the mom and baby is so critical too, for mental wellbeing.
I'm glad you brought that up because I agree, it's so critical. BreAnna, anything you'd like to add to that?
No, that was great. The whole rundown was wonderful. Nicki, you asked a little bit ago about what are some of the signs and symptoms that people may see that are maybe specific to that postpartum period and not just typical depression or anxiety presentation. One of the ones that I see frequently is the mom feels guilty because they don't feel a connection to the baby. They feel like, "I'm supposed to be bonded to the baby. I'm supposed to love the baby. Every time the baby cries, I'm angry. Every time the baby cries, I'm sad, I'm upset. When the baby's happy, I feel nothing. It's not supposed to be this way. I'm a bad mother because of these things." Those are some things that women are even afraid to talk about and tell other people because they don't want other people to know that they're not perfect or that they're struggling. Especially when they're attending mom's groups, which are great for support, but the other moms are going, "Oh, I feel this. And I feel that. And I feel the other thing."
And the mom who's depressed or anxious is sitting there going, "I don't feel any of these things, what's wrong with me?" And that whole mindset tends to just even worsen the depression and anxiety. Obviously sleep is one. Change in appetite is one. Those are sometimes hard to delineate between what the needs are of the baby and our healing bodies. But those are also, part of the signs and symptoms. One that I really want to mention that is a hot topic is postpartum OCD. Most of us are pretty familiar with OCD and the obsessions and the compulsions that go along with it. But there's some very specific ones with postpartum, OCD that are super important to screen our patients about because they frequently won't tell anyone.
They're afraid that they're developing postpartum psychosis. And the reason for that is they're having intrusive thoughts and intrusive images of either the baby getting hurt, maybe of them accidentally hurting the baby, purposefully hurting the baby. Those are thoughts that they don't like, they don't identify with them, but they're afraid to tell anyone for fear that someone's going to their baby away and put them in the hospital. That's one that's really important to screen for the prevalence is about 5% of new moms develop a postpartum OCD. If it's a fear of harm based OCD you'll see some of those things I just discussed with the intrusive thoughts and images, if it's a fear of contamination type OCD, you're going to see really obsessive behaviors around sterilizing everything, to the point where they're unable to function. They're unable to sleep because they're sterilizing everything constantly all day long.
Those are just a couple of pieces. There are some more things that go along with it, but those are a couple of the ones that I've seen most frequently in my work with moms. I always screen the new moms and gently ask them, "Are you experiencing any of these things? It may sound strange to you that I'm asking this question, but sometimes people are afraid to tell us. I'm not going to put you in the hospital, if you tell me that you're having this thought or this image is popping in your head and you don't like it, you don't want it there. But I can't help you if you don't tell me what it is and what's going on."
And I think that brings us to what can women do to help with these symptoms? And I think that number one piece is speak up, share. And I think a lot of the fear of that, like you mentioned, Bre if it is something along the lines of intrusive thoughts of harm, they're going to be hesitant to share that, for fear that the baby gets taken away. But I think that step one of what women can do is to speak up. Are there others that of you would recommend of how women can navigate their symptoms?
Yes. One thing I wanted to make note too, there can be huge hormonal shifts right after delivery. As we think about symptoms and time period, to recognize those first few days to, even up to two weeks after you can have, you know, just mood and anxiety changes because of the hormonal shifts. Just to recognize, wanting to kind of normalize women's experience that there may be times where you're crying often, you're not sleeping, you're irritable, et cetera, but really if that's going on two weeks after delivery, that's really one of those, like if you're going to remember one thing, the symptoms, if that's happening for longer than that relative time period, it's really important that just reach out for help and help can be different things.
Definitely, therapy can be really helpful here, psychotherapy and so reaching out. And then even if medication, talking to your OB GYN, getting a referral to see a psychiatric clinician, it just doesn't hurt to even just have an evaluation to be considered for. There may be medications that you can use as needed and, or even, just antidepressant medications for anxiety and depression that are used for a specific amount of time, six months to a year, that can be really helpful. And I know that's just sort of those things to kind of mention, and then I do actually, as we talk about this, we want to recognize that for women that really are suffering, that a lot of women do get help and a lot of women do take medication and have therapy. It's okay. It really is okay, just to emphasize that.
That's a good point. So maybe even finding some support groups of other women who are in treatment. Because you're not alone and finding a support group is one way to really feel that and experience that and hearing other women's experiences, you can develop a bond and help each other through that situation. You mentioned about, if it lasts longer than two weeks after delivery. Can you talk a little bit, Anisha, about the length of time after you discontinue breastfeeding?
Yeah. That's another time actually, Bre, thanks for bringing that up because that's such a vulnerable time for women too. And I actually want to pause and recognize that some women may breastfeed after one year. As we think about the perinatal period relative speaking, it's up to one year, I do want to mention that for women that do breastfeed and whenever that time is that they may wean. That is also a very sensitive time and that may be weaning because it's something you have decided, or your baby may decide that they're done. Regardless it's a very, can be a conflicting time for people, for our moms and also to recognize there can be hormonal shifts at that time as well. That even right after to even, for some, I've seen even several weeks after, but a few weeks after recognizing that there may be a time period where you feel low mood and kind of blue or sad.
To recognize that maybe if that lasts longer than just a week or two, to have a conversation with your clinician, reach out to a therapist, we're here at LifeStance, happy to help you, but reach out to a psychiatric clinician if you're struggling, but just to know that can come up and if it's longer than kind of… Or if it's just feeling really strong, like it's impacting your ability to function, it may be bringing up other things for you. It's just, it's also a critical vulnerable time. So thanks for mentioning that Bre.
Yeah. It's just, it's such an important period we often overlook and the woman is usually kind of on her own when she stops breastfeeding. It can be a very isolating time period. In addition to those hormonal shifts, can trigger things. So another one to watch out for. With that being said, there's a lot of adjustments that occur just becoming a new parent, whether it's the first time or it's the third or the fifth time, every single time is different and there's new stressors. There's life changes that occur. And with that change in sleep and in regular schedule, perinatal mood and anxiety disorders are not just about the birthing mother. So the father, the spouse, the partner, if you're adopting, this can affect adoptive families as well.
Yes, the hormonal part is a very large piece of it, but sometimes it's more about that adjustment in what's happening in our life. And the massive changes that occur when we bring a new human being into the world that's fully and 100% dependent on you. I want to make sure that we mention that there are support groups, not just for the birthing mothers. There are support groups for the spouses, for the partners, for the fathers, for adoptive parents, because this is a huge transition time. And because of that, it can exacerbate all kinds of mood and anxiety disorders. So just wanted to make sure we mention that as well.
Oh, I definitely appreciate you mentioning that Bre because it is very important as well. As we wind down any other take aways you would like to share about the importance of perinatal mental health, any other points that you want to highlight?
Yeah. Just two things actually. One, there is a medication approved for postpartum depression, Zulresso, Brexanolone, that is a IV infusion that has to be given over I think it's actually, sorry, I'm totally blanking on this, but I believe it's over 30 hours. It is something that actually can be very helpful. It very effective very quickly, but there are some limitations on how it's administered, but it is something we at LifeStance in one of our, in Oklahoma actually, we are administering that in a very thoughtful way. And I think it's something that is out there in other areas too. But that there's just, I think that's something that sometimes comes up in the media and on the news is that the FDA approved medication, I believe that was approved in 2019, it's just been difficult to, because of the IV infusion requirement over a significant amount of time.
I may have to look that up. It's over, I think a three day period we're doing that. And then the other thing I am always wanting to message is if you're ever in doubt of, if you're suffering, just reach out for an evaluation. It's so easy to get online, schedule an appointment, reach out to oftentimes your primary care clinician, your OGYN, your pediatrician can help you navigate that. It's so important to just get in and get help.
And I think the greatest thing that we've got going in the last few years is the advent of Telehealth for this particular condition, because sometimes it's really difficult to travel with new baby with the family. Telehealth opens up that access to care, don't necessarily have to leave the house. You can have a psychotherapy and medication evaluations from your home. That's really important, I think, to note as well as, there's support groups and everything else that are online now. So if travel with baby is difficult for you, no fear LifeStance is here.
Oh, great. [inaudible 00:32:25] Right there.
Just want to… So sorry. Just want to make sure I don't… It's 60 hours, it's an IV brexanolone, which is old Russo is a IV infusion over a 60 hours.
It's not continuous 60, right? They-
It is continuous over a 60 hour period. You dose it-
Yeah, they do. They do. Yeah. Yeah. So anyway, just wanted-
Thank you for the clarification.
Yes. Sorry about, just wanted to clarify that.
And Bre, I love that. No fear LifeStance is here. I think that's a great tagline. That's great. I want to thank you both for your time and sharing all your knowledge about this really important topic today. I think our listeners, our viewers are definitely going to gather a lot of knowledge that they maybe weren't here about. And I think the focus here is really reaching out, get some help. You're not in this alone, get the support you need. So once again, thank you both.
Thank you so much, Nicki.