podcasts
Building Intimacy in Relationships – Podcast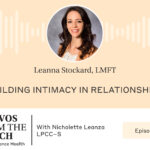 By Jason Clayden on February 7, 2023
Leanna Stockard, a clinical expert from New Hampshire, shares insights on building intimacy in long-term relationships and offers advice on how couples can rebuild intimacy after experiencing betrayal or a significant breach of trust.
Listen and Subscribe Here
Welcome to Convos from the Couch By LifeStance Health. We leading mental health professionals help guide you on your journey to a healthier, more fulfilling life. Hello everyone. This is Convos from the Couch by LifeStance Health. I'm Nicholette Leanza, and in this episode I'll be talking with Leanna Stockard, a clinician from one of our LifeStance New Hampshire offices, and she'll be telling us about ways to build intimacy in our relationships. So welcome, Leanna. Great to have you back on.
It's great to be here. Thanks for having me back.
This is such an important topic because we know that intimacy is essential to any healthy relationship, but it can be much harder to build it than we even realized. So I really look forward to you sharing with us some of your tips and how to build it and maintain it in our relationships. So thank you again for being on.
It's a topic I'm very excited to talk about, so I'm excited.
And I know last time you were on, you told us a little bit about yourself then, but do you mind telling us a little bit more about yourself?
Sure, of course. So as you mentioned, I'm Leanna Stockard. I'm a licensed marriage and family therapist. I'm currently licensed in Illinois, New Hampshire and Massachusetts. However, through life stands I am based out of New Hampshire. I've been practicing for over six years at this point. I work with individuals, couples, and families. I have a wide variety of different interests, but a little bit more specific specialties. But relationships and intimacy is definitely one of those. I'm very passionate about this when I talk about this with couples that I work with as well as the individuals that I work with too, that might be trying to grow their relationships, not even just with their partner, but with other people in their life as well.
And I think that's a great point. You definitely come to this conversation with a lot of great experience. And I think as we have this conversation, some of it might feel like it's particular for our partners, but I think we're talking just in general too of maybe all the relationships that we can be in, be it our partners, our family members, our friends, you name it.
Well, as we jump in, let's talk about what is intimacy and why is it important for a relationship?
Yeah. So ultimately the definition of intimacy is closeness or close familiarity or friendship with another person or persons. So I think that having intimacy in a relationship is important because ultimately you're sharing parts of your life with the people in your life, especially with your partner. And it's important for us to increase vulnerability and gain closeness and connection with those people that you are sharing your life with. Otherwise, it's likely to feel very surface level, isolating and maybe still feeling lonely even when we have a lot of people around us.
And I think you mentioned that vulnerability. I think that's one of the, and we'll probably maybe talk a little bit more as we go on here. I think a lot of people might have a really difficult time with that vulnerability of allowing themselves to be vulnerable, to be opened up to that intimacy as well.
So as we're jumping in even more, how can people build intimacy either with their partners or in general? I don't know, you want to, maybe if we just start with focusing just with their partner, what if we just start from that point of view?
Yeah, that's great. So as you just mentioned, intimacy in general does take vulnerability. It's about sharing parts of yourself with another person. So if we're feeling like newbies with building intimacy, I like to recommend the Five Love Languages. So if we've heard about that before, the Five Love Languages by Gary Chapman is a book that indicates how we express and receive love from other people. So the five love languages are words of affirmation, quality time, physical touch, gift giving, and acts of service. And what those five love languages entailed can definitely differ from person to person and what the other person and what each person needs differ person to person as well.
So I definitely think it's important that we get in touch with our partner's love language and try to figure out what aspect of our partner really connects them to us. I like to say not treat others the way that we want to be treated, but treat others the way that they want to be treated. And I think that by learning their love languages, even if it feels uncomfortable for us and feels unnatural for us to maybe spend more quality time if we are a gift giver, trying to make that effort and doing that for your partner. Sorry, go ahead. I
Appreciate you mentioning the love languages because I think this is key and I think a lot of people have heard of the love languages and those listeners who have now definitely check it out, Gary Chapman's book. And I love that you're emphasizing treat others how they would like to be treated. I think that the love language is if your own love language is act, access service, but your partners is physical affection, then there might be a disconnect between the two of how you're communicating and expecting affection and things like that. So I really like the part that you're emphasizing this because this is one part that really does build intimacy.
Absolutely. Yeah. And in addition to the love languages too, I share a lot with my couples that they're three types of intimacy. So there's emotional intimacy, which is that closeness and connection on an emotional level. You can build this by, you can be vulnerable, engaging in open and honest conversations and other types of emotional closeness that will help build some trust between you and your partner. And this can be done by either connecting on your day to day, your deeper thoughts or feelings or even talking about challenging times in your life and just being engaged in interested in what your partner has to say with that.
There's also physical intimacy, which is physical, non-sexual touching with another person. So this will go right alongside with the physical touch level language. So this is communicating to your partner what you are and are not comfortable with in terms of physical intimacy. So cuddling, holding hands, pet kisses, massages, foot rubs, things of that sort. That's all the type of physical intimacy.
And then the last one is sexual intimacy. So that's consensual sexual experiences with your partner. This will also involve an element of emotional intimacy because you definitely need to be communicative and respect your partner in that type of way. And with that type of intimacy and closeness and understanding of your partner, you guys can work together to explore sexual preferences and make sure that our needs are being met in that way. So those different forms of intimacy can differ from person to person, which one might be more important. So it's just important for us to connect with our partner and see how we feel about each of those intimacy types.
I'm glad that you're bringing up that there are different types because again, I think for some people they might not realize there's anything more than physical intimacy. So I really like that you're dealing it out and separating it out a bit with their emotional, the physical and the sexual. And emphasizing the physical is non-sexual too. So looking at what are some common barriers to intimacy in relationships and how can we overcome those?
Yeah. So you mentioned this earlier, but fear of being vulnerable with another person is absolutely a big one. It's hard to be really intimate and close with them if we don't share that deeper part of ourself. And we might have that fear of vulnerability due to a deeper fear of rejection or abandonment that if we are vulnerable, if we do share that part of ourself with somebody, they might not like me anymore and they might just leave. So that's a huge barrier. And those go alongside with the different types of attachment styles too, which also can differ from person to person and is often created in childhood. But those are all really big barriers to that intimacy because we are just fearful of what could happen if we are intimate with somebody in a way that we're uncomfortable.
Right. I think often I can't think of vulnerability without thinking of Brene Brown. And I know she has one of the biggest feud ted talks on the power of vulnerability. But I think there's something to that, and it's very hard to allow ourselves to be vulnerable. I think it has to be a point of feeling emotionally safe with someone to allow yourself to be vulnerable. And I think that's probably a part of intimacy too, of just feeling emotionally safe with someone.
Absolutely. And I think it's important that people know that that can be overcome in small steps. Working on slowly putting your guard down or slowly sharing parts of yourself to your partner to just see, can I trust them with this and see their response. People that may have been in past relationships where they were intimate or vulnerable, and then the person used that as ammo against them in the future, you might be fearful. So just taking that step by step, and I like to say tolerating mild forms of discomfort as opposed to jumping right off the deep end. But okay, so I think I could feel okay sharing this thing. That makes me a little uncomfortable, but I can tolerate that. And then as you continue to grow and learn with your partner, that feeling of discomfort will become less and less throughout time.
That's a great tip. I've never thought of just testing the waters a bit and seeing what you can tolerate and doing a little bit more and more as you go along to see, and I guess it sounds like what you're saying too is that you'll be surprised by what you can tolerate when it comes to it. You'll get used to the discomfort of it. Is that another way to put it?
Yeah, absolutely. Yeah. I mean, jumping right out of your comfort zone is really, really scary, but putting a toe outside of your comfort zone seems a little bit more tolerable. So yeah, taking it step by step is important.
That's a great tip for sure. So how can couples… We're talking specifically with couples here, maintain intimacy in a long-term relationship?
I'm in a blanket statement and say, keep dating. That is the biggest thing that I can recommend to long-term couples. I see this more often than not that couples just lose that part of their relationship when you have a home together. You have kids together, you have all of these individual pieces, and we don't go on dates anymore. We don't spend that quality time together anymore. And I think it's important too, throughout that dating process is relearning who your partner is as we grow as people, our needs, our wants, all of those, our forms of intimacy that may all change. So as you're continuing to date your partner, dating them in a way of, I know you foundationally, but I want to know you right now and continue to have discussions about those needs and wants and get to know each other in the ways that you think you already do know them.
I like that. That's actually really, really good. And I think for those who have really long-term relationships to get that, that maybe who our partner was when we first started and we were together is maybe not. Maybe they've grown and changed. We all hopefully grown and change and that they might be different. And really understanding who that person is now and connecting with them and who they are today. That's great.
Absolutely. Yeah. I mean, we can change even day to day. Something huge might happen to us in one day and it might change our outlook on something. It could change the way we feel about a certain thing. And if we just assume that we know these things about our partner without checking in or having these discussions, then we're just going to be on different pages, different books, even moving forward.
Good way to put it. Different books even.
At LifeStance Health, we help people living with a variety of mental health conditions lead healthier, more fulfilling lives by improving access to trusted and personalized mental healthcare. Our extensive network licensed providers offer a wide variety of services to meet your needs and are ready to support you. At LifeStance, there's no one size fits all approach to [inaudible 00:13:17]. We offer both in-person and telehealth appointments so you get the care you need in the format that serves you best. Let's talk about what you need. LifeStance is here for you.
Now we know technology and social media can get in the way of some things. So my question to you is, how can technology and social media impact intimacy in relationships, and then how can couples navigate that?
Absolutely. So I have a lot of different thoughts on this. I'll start off with the first one, but social media specifically can be extremely challenging to navigate through social media is in my perspective, a highlight reel of people's lives. Very rarely-
It's good way to put that a highlight reel. That's actually a good way to put it.
Yeah. Very rarely do people actually show, and I'm just going to keep on this metaphor here, but behind the scenes of what's actually going on with them. They're just going to post about this exciting thing that happened or this beautiful sunset that they saw. And I give kudos to the people that do post their raw behind the scenes things out there, so that way we can see that other people are human. But when we do see others highlight reels, we might see couples going on vacations or spending a lot of more intimate time together. And what I can see happening from time to time is an insecurity can maybe build, it build an impending sense of doom like, "My relationship is over, my relationship is not great. Look at what they're doing. They're out on this vacation having such a good time together and I'm at home taking care of my kids and my partner barely talks to me. This is over."
Or maybe even as I transition into the next part, maybe there's something better for me out there. And then they can start to have that type of questioning, which can unfortunately lead to a lot of traps that can be in social media, which is direct messages from other people, ads of other singles in your area, increasing porn addictions and things of all that sort, which can ultimately affect the intimacy with your partner because you're not as present with them. You're now looking outside and looking elsewhere, thinking that the grass is greener on the other side,
Which is a perfect setup for this next question is how can couples rebuild intimacy after experiencing your betrayal or a significant breach of trust even?
Absolutely. So just sticking along with the social media aspect of things, I think it's really important to make sure that you and your partner are honest about the limits, the boundaries and what's deemed as acceptable and unacceptable in the relationship. And if those things are crossed, breaches of trust are incredibly difficult to work through because at the foundation of intimacy and vulnerability is trust. So if that trust is broken, it's very, very hard to heal from that. It's a wound that a really, really deep wound that we need stitches, we need a cast, we need to peroxide it every day. And it hurts and it takes a while to heal. There's truly no easy way to build it back. But time and work that needs to be dedicated to building that trust back definitely depends on the severity of the breach of trust and the partnership specifically, and who the, I like to call it them, the betrayer, and then the person that was betrayed, but the person that was betrayed what they need in order to build trust.
And my perspective, the person that broke the trust definitely needs to work a little bit harder to build that trust back since they're the one that created that breach. So checking with your partner consistently about what their needs and wants are, making sure that the actions that need to be taken are on the same page. Whether that's deleting social media, deleting a person from your life, some other small action steps with that. But ultimately too, the person that broke the trust needs to be willing to accept responsibility, showing remorse for that broken trust and making sure moving forward we're engaging in that open and honest communication and even transparency. So sharing your phone, sharing your passcodes-
… access to emails, full transparency. And I think that can be really hard for people because it's like an invasion of privacy, but unfortunately when that trust has been broken and it takes a while to heal it back up that privacy, you utilize that privacy to do something behind your partner's back. So that privacy is no longer like a privilege in a way, if that makes sense.
Yes, that totally makes sense. And I think just overall, what I hear you saying is that it is possible to heal from a big breach of trust or a betrayal. It's going to take a lot of work.
It is. And in addition to that, it takes patience and consistency. I've worked with multiple couples that have come to me for breaches of trust, whether it's been flirting with somebody through text message, to having multiple affairs, to having a completely different family and finances. I've worked with people that have had a wide variety of breaches of trust. And it is definitely possible to heal from that. And for some folks too, even be stronger coming out of it because if we are in different books, perhaps this breach of trust, as we build trust together again, and we are able to get to know each other's needs in a way we can almost get back into the same book and start on the same chapter.
Which is, that's the key. That's so critical right there. I know you mentioned some ways for building the intimacy in long-term relationships. Can you give us some additional ways that couples can continue to grow and deepen their intimacy over time?
Yeah, as I mentioned, keep dating.
Yeah, that is a good one.
Yeah, continue to get to know each other. Ask them about past stories you've never heard before. Tell me about your third grade teacher, or what was your experience like coming home from middle school or things of that sort. Trying to just ask questions and stories of things that you may not already know about your partner. Also play games with each other. Have fun. Be playful with one another. Try new things together. I think taking risks together can be really important too, because it does allow us to build more trust with one another, like jumping out of a plane together, like, "Okay. So we just did that together and that was really scary, and I trusted that my tandem person's shoot was going to go and I was going to be safe."
So it helps just build trust to be able to take those types of risks together. Traveling together, also exploring each other sexually in a way that you never have before, of course, consensually. And then ultimately talking frequently with each other. Talk about your challenges, your successes, your day-to-day, your favorite coffee of the week, or whatever it might mean. Engaging in love languages and ultimately surprise your partner.
Great tips. I think it's really recognizing the habits you might fall into with your partner and shaking it up a bit and trying to see them from a different light and asking those questions that you think, you might think everything about your partner, but you probably don't. So I love asking those questions about middle school and things like that, trying new things together. Those are all really great tips. My gosh, Leanna, thank you. You just provided so many great tips on how to build the intimacy with our loved ones and those who are close to us. And I'm sure our listeners will probably take, not even just one or two, but many of the examples you gave and hopefully start applying that to their own relationship. So thank you again for sharing all your knowledge with us.
Of course. Thanks so much for having me. And like I said, I absolutely love this topic. And just for the listeners out there, it's never too late to build that intimacy and it's never too late to build that trust.
I also would like to thank the team behind the podcast, Juliana Whidden, Chris Kelman, and Jason Clayden. Take care, everyone.