podcasts
The Couch and the Screen: Reservation Dogs – Podcast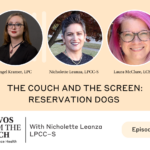 By Jason Clayden on April 27, 2023
Welcome to the first episode of "Couch and the Screen," our podcast series that explores mental health topics in TV, movies, and pop culture. In this episode, a panel of experts from LifeStance Health take a deep dive into the groundbreaking television series "Reservation Dogs." This show follows the lives of four Indigenous teenagers living on a reservation in rural Oklahoma and explores themes of cultural identity, friendship, and grief.
Join us as we discuss the impactful storytelling, powerful performances, and the ways in which "Reservation Dogs" sheds light on mental health challenges in Indigenous communities.
Listen and Subscribe Here
Welcome to Convos from the Couch by LifeStance Health, where leading mental health professionals help guide you on your journey to a healthier, more fulfilling life.
Hello everyone, and welcome to Convos from the Couch, pop culture edition. In this new aspect of our podcast, once a month we'll be covering how mental health is portrayed in pop culture. I'm Nicholette Leanza and I'm joined my esteemed LifeStance colleagues Angel Kramer and Laura McClure. And every month, we'll be picking a different movie, TV show, book, you name it, anything that falls under pop culture to discuss its portrayal of mental health. So, hello Angel and Laura.
So excited about this inaugural episode for sure. And on this episode, we'll be talking about the FX show Reservation Dogs. So, to give just a little brief synopsis about the show, Reservation Dogs is a comedy-drama series that follows four Indigenous teenagers living in rural Oklahoma as they navigate the challenges of growing up and dreaming of a better life. Angel.
The show was brought to us by Indigenous creators, an Indigenous cast, Indigenous writers. The people behind it are Sterlin Harjo and Taika Waititi.
Yes, thank you. Thank you for adding the show's creators. And that is a show written by Indigenous people. That's so crucial. And we'll get into that more. We'll definitely be talking about that more. So, before we talk about that more, let's introduce you two. Angel, most people who listen to the podcast know you. You are a veteran here. But just for the sake of this inaugural show, let's have you introduce yourself again.
Absolutely. So, my name is Angel Kramer. I'm in St. Louis, Missouri. This is the ancestral land of the Osage and many other people that we do not have a name for. I'm also Lakota and Blackfoot.
Thank you. And Laura, tell us a little bit more about you.
Yeah. So, I'm Laura McClure. I am a licensed clinical social worker, and I have been in the social work field for 17 years. And I predominantly work with trauma across the lifespan, particularly childhood trauma from across the lifespan. I'm currently in a doctoral social work program for trauma-informed clinical practice management and advocacy. So, excuse me, but everything that will come out of my mouth will probably be trauma related. I'm going to be that person.
Incredibly appropriate for today.
Yes. Yes, yes, it is, for sure. So, why don't we start, and let me throw out there, what did you guys think of the show? Angel.
I love Reservation Dogs so much. I watched it several times up to this point. So, as soon as it was brought to the table that we are doing the podcast on pop culture and agreed on Reservation Dogs, I was like, "Oh, I already know. I got this." I thought it was very well done. I laughed, I cried. I was in it. And the spirit guide speaks to my soul.
Love it. Love it. Laura, what about you?
I'm with Angel? In the span of one 30-minute episode, I laughed, belly laughed, and I wept cried. It was poignant and moving. And as a white woman watching it, I really loved that I had to look things up. It was not a whitewashed perspective of Indigenous.
I had my phone right next to me being like, "Okay, let's pause this. What does this mean?" And I think that that was really beautiful, and it's about time. And I will say, I'm really excited to go watch season two now, because I held off so that I didn't get it confused for our podcast. So, that's what I'll be doing this weekend, is season two.
And I'm going to agree with both of you. I did love the show. Like Laura, I was looking things up, because at first, the first few episodes of the first season, which came out in 2021, and just to plug the second season just came out in 2022, so I believe we're looking forward to season three coming out this year as well, at first, I was just like, I feel like I'm missing stuff. I just felt like culturally I didn't realize how much I did not understand or know about Indigenous culture. So, I too was looking up a lot of stuff.
Actually, I had a friend that absolutely loves this show, and this is a shout-out to Kelly. Kelly was amazing in that she's like, "Nikki, as white women, it wasn't written for us, it was written by Indigenous people for Indigenous people. So of course you're missing a lot of stuff, and that's okay." And so, the idea is that this brings more awareness to the culture. And Angel, speaking of coming from that perspective, tell us more about what else this show meant to you, since this is your culture.
Nikki, you're going to make me cry. I will start blubbering. But the show means so much. It gives us representation. It is unapologetically Native. It was not slowing itself down to explain itself. If you didn't know, you needed to Google it.
And that was purposeful. The show was meant to be Native representation, and as a representation of present tense. All too often, we are fetishized, we are shown in past tense, and we are shown in a way that makes white people comfortable. And the show did not do that. It showed the hardships, it shows the nitty-gritty aspects of living on a reservation. And I cannot speak to that. I was not raised on a reservation. But the culture is still there. The generational trauma, which I'm sure we're going to talk about here in a little bit, all of that is there and it's represented in the present tense.
Yeah. I agree. And one, I have chills as you were talking about that, Angel, just saying. You just gave me chills as you're even saying that. As I was watching the first season, there's almost a sense of shame that I had not put forth more of an effort to understand Native culture. The fact that I had to Google so much and that I really didn't understand even the premises of it, I was like, I should be ashamed of myself that I don't know. So, the show definitely served for me that kind of portal into wanting to know more and be more knowledgeable about it. I'm sure as for you as well, Laura?
Yeah, absolutely. I think there's always these moments as a white person where you think of yourself in that term of woke or wokeness, and then you have these reminders that wokeness isn't a place. It's a journey.
You're on a journey of wokeness, and you don't ever quite arrive. And so, there's that sense of it kind of brings up a little bit of that white shame and white guilt. And when you're able to push past that and keep moving and keep educating yourself, you open your world up to incredible culture that we weren't aware of before.
I agree. I agree 1000% with that, Laura.
Yeah. And you kind of miss out on the humor within this, and knowing that it is all from that Indigenous perspective, I'm like, I'm missing out on a whole world of humor and things that kind of are right up my alley.
It's such Native humor. White writers would've never written the spirit guide. The unknown warrior and William Knifeman would not have been written. They would've been that stereotypical Hollywood crying Native. But instead we did William Knifeman, who was a little irreverent, kind of edgy, and just throws it in your face and is absolutely hilarious.
Yeah. Well, and even the way that they depict Rita, Bear's mom, and the multiplicity, that's like the concept and theory of multiplicity, and how they actually did that in a way that was not portraying multiplicity within ourselves as crazy or problematic. I thought that was beautiful.
I want to add something, but it's a left turn to the multiplicity of it, is something very basic I've learned, just what I learned culturally that I didn't understand, and the irony is that I was wearing an owl sweatshirt. I didn't understand the part where they had blot out the owl's eyes. And I'm looking that up, and I'm looking down at my sweatshirt, which is one of my favorite kind of cuddle-up sweatshirts with this huge owl. I'm like, what am I missing about owls? Angel, do you mind telling us a little bit about that, maybe in the context of the show, of what that meant?
Yeah, absolutely. So, some of these concepts are specific to the region and the tribe themselves. And something we haven't set up to this point is that we are talking about a reservation in Oklahoma for the Muskogee.
With the owl, the owl has various meanings across various tribes, but for them in particular, to look at an owl or to have an owl look at can be a bad omen. So, that's why we see them enter Brownie's property and they're like, "No, no."
That was a beautiful, purposeful moment in the show that demonstrates they're not whitewashing it. They didn't slow it down to explain it. If you didn't know, you just weren't in on the joke.
Very true. I felt that quite a bit, like I'm missing a joke. There seems to be something here. I don't know what it is. So, excellent point with that. But again, have I worn that sweatshirt since? No, I have not. Honestly, I have not worn that sweatshirt. All right. Jumping into a little bit more of the weeds here. What mental health issues did you all see portrayed in the show? Laura, would you like to begin?
Yeah. I'd probably begin with something that's not yet in the DSM-5, but hopefully will be in the DSM-6, would be developmental trauma. The idea, especially looking at Uncle Brownie and the idea of how he did not… they didn't mention why not, but he did not grow up with his biological parents. He kind of grew up living with… What was her name? Cookies?
Cookie's grandmother, and called her the sibling. Their joke is that it's cousin-uncle. And so, obviously there was some childhood trauma going on, and you can see that continue to play out in the form of avoidance as he's like, "No, I can't talk about your mom because it'll make me cry," as if, "I can't handle those feelings. And so, through my lifetime I've learned to avoid that through…" it sounds like drug use, physical violence, those kinds of things. So, for me, I saw a lot of untreated childhood developmental trauma and attachment trauma.
Ooh, a big one there too that I hadn't thought of that.
Yes. And I thought the attachment trauma was everywhere, but particularly with Elora and Cheese. Because Cheese says, "I don't have a mom. I don't have a dad. My grandparents are dead." This old woman in the hospital mistakenly… And he had asked her as his grandmother, and that was the cutest thing. But it also emphasizes people's need for other people at our basic core attachment is what keeps us going. And so, the attachment trauma for me…
I'd also add to that, Bear's attachment trauma regarding the lack of his dad.
Yeah. Yes. That episode where Dad calls him and they're in the car was heartbreaking.
Oh, yeah. I feel like we need to give a little context to that. So, let me say this. The four main characters are Elora, Bear, Cheese, and Willie Jack. And so, with Bear, his biological father lives in California and is attempting to be a rap artist, and it's what I interpreted, Bear to very much looking up to his father, and father seems to make lots of empty promises and stuff like that. So, I just want to give a little bit more context to that.
Yeah. So, I think for me, you definitely, in that, you see an attachment rupture-
… happening live and in that moment to where we're not looking at it as past trauma. This is a current trauma that's happening within the context of what we see.
That's really what stood out to me.
The attachment and developmental trauma going on.
So, to kind of piggyback off of what Laura was saying, I'd like to add that part of this is also the tribal unit. Cousin-uncle…
Some of that is simply how our peoples are set up, have that interconnectedness, that division of roles, those blurred lines. At one point in time, the spirit guide says something along the lines of, "Cousin, uncle, child, grandson-
… grandfather." That's because the family lines are blurred. They all fulfill those roles for one another. Let's not detract from any trauma that does exist. But to give a little context for why, at some point, they call him cousin-uncle.
Because those lines can be blurred within the tribal unit.
I love that aspect. I love that, how they did it. And when I would hear cousin-uncle… I loved all that. And aside from that, just a little silliness that I had to look up, I kept hearing Willie Jack say, "Skoden." Skoden? I'm like, what's a Skoden? And I realized after looking it up, she was saying, "Let's go then."
And Stoodis, "Let's do this."
Yeah, yeah. I love that. Love that.
For myself, and this is the epitome of what the show is based, is what I was seeing, grief, mourning, the loss of their friend. And a little bit of a spoiler alert here. I don't think they really even put the words to it until maybe later in the first season, but their friend Daniel commits suicide. And I think what we're seeing, that that had happened a year before, actually, where the series takes place. And what you're seeing is you're seeing these four teens kind of dealing with the aftermath of their dear friend committing suicide.
And that's where it brings into one of the things I didn't understand about Indigenous people, that there's high rates of suicide and substance use issues. So, I think that's what I was really seeing kind of play out through the show. Any other thoughts on that, Angel, that you want to expand on?
So, watching the show, we see all of this grief playing out.
And for me, that was the biggest mental health aspect of the show, is grief. Grief and loss, how to deal with that. How do we cope when we don't have the language for it? How do we cope when we don't have the culture behind it? We have the historical trauma, the generational trauma, and now we have the present trauma. And the fact that the suicide rates among Indigenous people are the highest of any ethnicity or racial group in the United States is further emphasized in the show.
And I think they do a lovely job, a very sensitive job of showing that act with Elora finding Daniel up there.
And her response is so visceral and so real, but done in a way that is not re-traumatizing for us to watch.
I agree. It was very well done. And again, I got goosebumps even you mentioning that scene. Yeah.
And then we see Elora trying to cope with it, the person in the show arguably with the least amount of resource, and quite possibly impacted the most for finding him. We see the relationship that the two of them had. That seems to be a little bit more than the friend group at large. And we see her dissociating. People without that language might watch the show and be like, "Oh, something is off," but for those of us with that language, she's dissociating. She's ghosting through.
She's trying so hard to make meaning and to make her life meaningful. And her friend group is kind of tagging along. They're there and they're supporting her in the only way they know how, but they're also grieving…
… in very different ways, but all together.
I love that you just said that, in very different ways, but all together. Definitely. Though, I think the crux of this podcast, the pop culture podcast here, is to look at mental health being portrayed accurately or unrealistically. So, I think we're on in agreement, so I guess I'm saying I'm speaking for all of us, that I felt this was a very accurate and realistic portrayal of grief, of developmental trauma, attachment, everything that we've just named. I'm assuming you guys agree.
I do, to the point where I'm curious, and I haven't looked into this, if they had mental health professionals on consultation.
Because I feel it's pretty on the nose.
I would agree with that, Angel. They had to have, because even with the suicide, there wasn't the stereotyped reactions to it. It wasn't glamorized. It was, I felt, a really authentic portrayal.
Good word. Authentic. Definitely. And I think this just opens this part of our conversation up to just the larger conversation about mental health and intergenerational trauma in Indigenous communities. I know for me, watching the show, it made me more tagged in, more aware, wanting to seek more about it. And so, that was huge for me, but what about for you all?
I think it is wonderful that it created that response in you because that's part of what needs to happen.
There needs to be that awareness. There needs to be that understanding in the community at large of what happened to my people, and what is continuing to happen. And having that awareness, that understanding, but also doing something.
And we need to take action. We need to help with the resources and advocacy without being the saviors. And that's sometimes a fine line to dance on for some people.
Angel, I really liked what you said when you talked about… Shoot, it just went out of my mind.
Oh, about we need to have a narrative about what has happened to these people. So, I just read this article from 2008, and forgive me, I cannot remember the name of the tribe, but they refer to themselves as Rock Culture. I believe it's in one of the Dakotas. And it was about resiliency through trauma narratives of this specific Native American tribe, because their levels of substance abuse, suicide rates are much lower than the national averages.
And it goes back to this idea of Rock Culture, where their stories and their chances and their ceremonies are specifically just telling the trauma narrative of their people. But not only is it, "This is what happened to us," but it's, "This is how we survived. This is how we're still here." So, it gives people the context of, "This is why I feel what I feel, and this is why what's going on with me," but it also gives them a reflection point of, "My ancestors survived and this is how, so this is how I pick up and move on." So, as soon as you said the narrative about my people, I was like, ah, yes, it's so important for a lot of different reasons.
And I think the show demonstrates that pretty well in the short amount of time of an episode. In the episode where Willie Jack and her dad, Leon, go hunting-
That's my favorite episode of that season. Yeah.
So, Leon tells her, "We're Indians. We don't own land." And that culminates in this beautiful story arc of his grandfather sold their property under whatever false pretenses, under whatever false promises. We don't know, but we can fill in the gaps of what probably happened then. But still partaking in the land. He's still hunting that land.
It's still part of their narrative. It's still part of the culture. And another thing that's shown is Willie Jack helping to heal her father. You see all of the pain that he's holding.
He was the last one to see Daniel. He was the last one to interact with him, and the guilt that that must have brought for him to look back and try to make meaning and find what he missed…
And we see Willie Jack trying to give him the language for it. "Dad, you can't save everyone." And she said that in response to him saying, "I couldn't help him in the way that was needed." And part of that healing is the culture, knowing who our people are, where we came from, what we went through, and being survivors.
We don't have to be the victims. We don't have to put ourselves past tense. We're still here. We're still here. We're still trying to revive and rebuild all the impacts of genocide. That's hard work.
It's a long, long story of resiliency.
Yes. Yes. And the current generation… Crazy Horse had a prophecy that it was the seventh generation that was going to bring us back. We're in that seventh generation.
Wow. Wow. That's interesting.
We're trying to bring it back. We're trying to get to survival. We're trying to use our culture to survive because we need to. Otherwise, we're lost.
That's why I love these four characters so much. They're resilient. They're survivors. Very powerful. Very powerful show.
Any criticisms or concerns?
I don't think I have any concerns. I think the representation is on point. I think how they showed it was as accurate as they could while still making it entertaining.
While not making me feel sorry for my people.
And we're storytellers. That's part of what we do. We take what happened and we add a little bit of a heightened reality to it to make it a story. And that's what this is. It's a heightened reality.
And I'm very proud of myself for making it to this point and not crying.
I'm very moved right now. Very, very moved. Laura, your thoughts?
I think for me, the only thing I might say, and it's not a critique or something I didn't enjoy, and it's probably hopefully something that will be in season two, but I would like to see… I think towards the end, we got to the point where somebody in group says, "You need a ceremony or you need to go to therapy," and I thought, "Okay, here we go." Let's talk about how do we in a real way address this. And so, I'm hopeful that we kind of get to see a little bit more of, "Hey, we have all this grief, we have all this trauma. How do I be proactive in trying to address it?"
That would be the only thing that I wish I would have seen a little bit more of. But yeah, it's not a complaint. Because sometimes it takes people a long time to get to the point of, "Let's be proactive to treat that." So, in another way, it's a pretty authentic view of how that actually plays out in real life.
And we see a little bit of that ceremony when the four of them are in their suits and white shirts and they're staging themselves, and they're saying their little prayers. That's part of their healing. That's part of that ceremony. But then they're also… Right, we need an ongoing one. We need a sweat. We need to connect with our ancestors. We need to stage, we need to sweet grass, and we need to go to therapy.
And you bring up a good point about that, Laura, about making the comment about therapy. Because when I thought about that myself, about the concerns or how it's portrayed, I didn't have anything. I'm like, it feels like this is very authentic. And part of it's like, I don't know what I don't know, but it feels pretty authentic to me. One of the things that I kind of figured is that going to therapy in the Indigenous community, I don't know if it's stigmatized, but it doesn't seem like that's the first choice. It sounds like it's turning towards one another for that help and support. Am I correct in saying that, Angel?
Yeah. So, the resources aren't there.
A fair point. Okay, fair point.
We even see in the show, they have the IHS. That's about it.
If they live on the rez, that's about all they have.
And if they have more than that, it is a doctor or provider who's coming in from off the rez, and they might not get it. They might not understand how important the culture is and how important that spirituality is, how important the tribal aspect is. For mental health, there is so much impact of genocide and the generational trauma. We have depression, we have alcoholism, we have abuse, we have lack of resources, lower socioeconomic status. And that takes away some hope. And when you don't have hope, you don't seek help.
And being able to have those resources, that's going to change the narrative. That's going to help us to heal. And if we can have those resources and have a provider that can implement and understand how to implement the tribal spiritual aspect of it, that's going to be crucial. And that is crucial.
To understand the impact of a ceremony. If you're going to see someone for trauma, having a trauma provider who understands impact of that shaman, of that medicine man, that medicine woman, of the tribal elders, and can incorporate that, that can push healing so well.
And then, if we see one person heal, we're more likely to heal, because now there's hope.
Thank you, Angel. Thank you, Laura. This has been such an amazing conversation we had about this show. And I would definitely invite everyone, if this sounded interesting to you and you haven't checked out the show, I believe you can see it streaming on Hulu. It's Reservation Dogs. And thank you again, Laura and Angel, for this amazing conversation.
Aho. I'd also like to thank the team behind the podcast: Jason Clayden, Juliana Whidden, and Chris Kelman. Take care everyone.