podcasts
Suicide Prevention and Teens – Podcast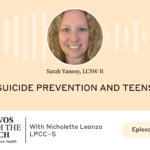 By Jason Clayden on September 6, 2023
Suicide is the second leading cause of death among people aged 15 to 24 in the United States, with nearly 20% of high school students reporting serious thoughts of suicide. In today's episode, we are joined by Sarah Yanosy, a clinician from our Yorktown Heights office. Sarah sheds light on the unique vulnerabilities of adolescents to suicide, combining insights from brain development and societal shifts.
Join us in this essential conversation about understanding, supporting, and empowering our teens through their mental health journeys.
Remember, if you or someone you know is in immediate need of help, call the National Suicide Prevention Lifeline at 1-800-273-TALK (1-800-273-8255).
Listen and Subscribe Here
Welcome to Convos from the Couch by LifeStance Health, where leading mental health professionals help guide you on your journey to a healthier, more fulfilling life. Hello everyone, and welcome to Convos from the Couch by LifeStance Health. I'm Nicholette Leanza, and on this episode, I'll be talking with Sarah Yanosy, a clinician for one of our Yorktown Heights office, and we'll be talking about teens and suicide. So welcome, Sarah. Great to have you on.
Suicide is the second leading cause of death among people aged 15 to 24 in the US. Nearly 20% of high school students report serious thoughts of suicide, and 9% have made an attempt to take their lives according to the National Alliance on Mental Illness. So Sarah, really glad we're having this conversation today. It's very important that we're covering. What makes some teens more vulnerable to it and what parents can do or loved ones to do to help. Thank you again. Let's start, tell us a little bit about yourself.
I am a social worker by training. I've worked for LifeStance for five years, but I've been a therapist for 25 years. I also teach graduate school in social work at Fordham University, and I teach graduate school at the Columbia University Mailman School of Public Health as well. I do lots of things. I am also an organizational consultant in trauma-informed care, and I work with agencies all around the country and some agencies outside of the country as well. But I'm also a mom. I have five kids. They age in range from 20 years old to eight months old. So I have my hands full.
My gosh, you have an eight-month-old. Wow. Amazing. That's amazing. Gosh, definitely very busy.
And a dog. Can't miss the dog. The fur baby. The fur baby as well. My gosh. You definitely sound like you're a busy woman for sure. As we jump in more to this conversation, why do young people seem to be particularly vulnerable to suicide?
So it really comes down to biology and brain development, and one of the things that we've really come to understand is that adolescents have a higher risk for suicide for two reasons. There are lots of reasons, but two brain-based reasons. The first is that their prefrontal cortexes, the part of their brain in the front of their heads is not fully developed. So that means that they have more impulsivity and less ability to reason. So their emotional regulation skills are often much lower than adults. So their reactions are much higher intensity.
They also have higher risk factors just because of their lack of life experience. As adults, we can often draw on our history of knowing that things get better or that painful experiences are temporary. Young people don't have that experience. So when you pair those two things, the brain development, the emotional regulation skills, and the impulsivity with that lack of life experience, we see higher risks.
There are also some social factors that weigh in that make kids in that age range more vulnerable. And again, two things really stand out to me. The first is our social structure. We have what I like to call private parenting as a norm. And what that really means is that the nuclear families, the fact of our social structure, people live in homes with lots of contact with other people. In the past, kids had tons of grownups, aunts, uncles, grandparents, neighbors who were very involved in their lives. And that's not so much the case anymore. Parents are really the primary people who are shaping and keeping eyes on kids, so they're less protective adults in their lives. So that's the first thing.
The second thing is that we have a 24/7 media environment. So young people are exposed to images, information on demand that can really influence how they think about themselves and play a big factor in their stressors. So we see a lot of pressures on teenagers that didn't necessarily exist previously. So there are a number of things that really contribute to that vulnerability for suicide.
My gosh. That was a wonderful answer I think to really help people understand the combination of factors here from the brain development to even the media, how much we're bombarded, how much they're bombarded, how much they interact with it as well. Gosh, I think that was a really helpful answer for people to understand. So looking at some signs and symptoms that a teen may be at risk for suicide?
There are some things to look out for and unfortunately some of them fall into the category of normal teenager behavior. So it's sometimes hard to tease those things out. Teens can be moody and spend a lot of time in their rooms and disconnect from the adults around them, and some of that is normal. But when you start to see that the frequency or intensity tick up where you would really think about it as withdrawal, sleeping a lot, shutting down, not doing activities that they previously were really interested in or loved. I think one of the signs is when kids start to quit activities that they have been doing for years or felt really passionately about without switching to something else.
Played a sport for years and years and all of a sudden decide, I don't want to do this anymore. But that's because you want to do something else. That wouldn't necessarily be a sign. But quitting altogether and continuing to isolate, that would be something to look out for.
It's definitely sounds like they're withdrawing from life, right?
Definitely is pulling more into themselves. Okay.
Yeah. And another thing that we see is that disconnect not just from the adults around them, which is normal, but also withdrawing from peers. So when they're not spending time with friends, not going out and doing things that would be in their norm. Those are some things to think about. But also key things to look for are, in addition to that isolation are things like changes in status. And now we're going into the risk factors. So particularly when young people, because for teens their peer group is everything, that social connection is the most important part of their identity. So when they have experienced a rejection from their peer group, they feel isolated. If they have had a change in status, some way that they identified and now they feel like they've lost that, and this applies to the LGBTQ+ community in a really big way.
When there are changes in status or identity, those are really things to tune into in terms of risk factors. Other things that are important to think about with evaluating risk for suicide are things like other mental health conditions. So kids who have had psychosis, depression, personality disorder, diagnoses, even a family history of suicide, there's some research now that's suggesting that there may be a genetic component. So those are things to consider also that might put a young person at higher risk.
But a couple of other things to really tune into. One is talking about death a lot and having almost a fearlessness about death. So higher risk taking behaviors, sexual promiscuity, high risk sexual behaviors, other risk taking behaviors. Those are some indicators. A sense of burdensomeness. So if you hear your child saying things like, "People would be better off without me or I'm just a disappointment to everyone," those are some signs to look for. And then the other most significant risk factors are access to weapons.
[inaudible] are guns in the house. That's mostly because of the impulsivity sense to means to take your life. That's a big risk factor. But the biggest predictor of suicide attempt is a previous attempt. So if you are working with a child or your own child has made an attempt in the past, that is the biggest factor to consider with regard to risk.
May I add something to that is some parents or caregivers might think, and this is definitely invalidating to the teen, all they're just wanting attention and things like that, and very dismissive of it. And I see that as so harmful. Have you come across that as well?
Absolutely. And I think as we think about the question of what do we do? The very first answer is don't minimize, because it's almost like hitting the power button and powering down the community. And there may be desire to seek attention through statements like that. I prefer to think of it as seeking attachment or seeking action.
[inaudible] used to do that. So this is the only way they have to let someone know they are not okay. And even if it turns out not to be all that serious when you start to explore, the fact that they are making a statement like that tells us something really important about where they are and what they need, and our job is to take it seriously. I almost always encourage people… Parents have one of two reactions, usually. One is minimize or dismiss and think, that's not a thing. The other is to go to the other extreme, which is to immediately jump in and your brain is firing on all cylinders and you want to talk them out of it, and basically jump immediately to, that's ridiculous, a million things to live for, [inaudible] great.
Which is still very invalidating.
Exactly. So the problem is that our natural responses that come from our life experience and our wish to make this not a thing. Nobody wants this to be real, is one of those two things. But in reality, we are most likely to be communicating unfortunately, that we might not be a safe person to talk to. So instead, what I recommend is starting with gratitude and just saying, "I'm so glad you told me." That is the first sentence. And as a therapist, I have practiced enough for that to be my automatic response. But for people who are experiencing this for the first time, it takes a little pre-planning and thinking. So I always start with, "I'm so glad that you're telling me this. I'm so grateful that you told me, and I want to help." That is the beginning. Get through that, you are in a really good place.
I love that you're giving a very specific things to say, "Thank you for telling me, and I want to help." I think that often, especially if a loved one is taken off guard, that they're teen is sharing, that they're thinking about suicide, you just gave them a little bit of a script of how to lean in and feel like a safe person the teen can talk to. So yeah, that's great.
And then the second thing is to be curious, and again, I think the spectrum of minimize or react really intensely is our go-to. And I have found that when we really step back and try to create some space for a teen to let us know what they need, we can make much better decisions. So a lot of people, myself included, have a visceral reaction to asking about suicide because there's this fear we have that we're going to ask the question, have you been thinking about taking your life or do you have a plan that you've thought about this idea that if we ask that question, the response is going to be like, "I wasn't but thanks for the idea. Now I'm going…" Right?
[inaudible] we're planting a seed. But the research has really demonstrated that's not the case. In fact, if a teen says, "No," of course not, that's a good thing.
Then what we say, "I'm really glad I asked and I'm really glad that's the answer." So the questions that we want to ask about are, how long has this been going on? How frequently is it happening? Have you thought about how you would end your life? Have you thought about practicing? Have they say, I've thought about taking an overdose of pills. What pills have you thought about taking? You ever taken the pills out? Those are called rehearsal, and they are a strong indicator of risk. So we wanted to get some of that information so that we know what to do next. Question is, okay, now I know this, what do I do? And I often ask the question, how worried should I be about you taking action on-
… plan. Today, tomorrow, next week, before I see you again? And that helps with setting my understanding of urgency. Do I need to bring you to the emergency department right now? Do we need to call the suicide hotline? Do we need to create a safety plan? What are the things that are going to be most helpful without underreacting or overreacting? So getting some of that information is really helpful.
When you get to that decision-making point and you realize, okay, so this is not an emergency situation. I don't have to call 911. One of the things that can be really helpful is creating a safety plan until you can get the young person the help that they need. And you can also do this with a therapist. You can do this using the crisis hotline. There are a lot of ways to support you as a grownup in a young person's life to construct this. But a safety plan is really about helping the teen recognize the signs, the triggers, the reasons that their thoughts or impulses to harm themselves might go up. And then really thinking about what they can do to cope. So things that they can do themselves internally, listening to music, taking a walk, as well as people that they can connect with. Friends, family members, other adults, hotlines, school counselors, therapists. Those are the things that make up the safety plan.
And then also looking at how to make the environment safe. So do we need to have eyes on a kid more frequently? Do we have to have more check-ins as a parent or caregiver? Do we need to remove weapons that might be in the house? Do we need to lock up medications? Those sorts of things. When you are feeling that you're not sure what the best thing to do is, but you've created some space to talk about it, I always recommend calling a hotline together. And if the child says, "No, I don't want to do that." I often will say, "I'm going to do that. You're welcome to be with me when I do. I want to get some advice about how to be helpful." And that's a really good first resource. And the national number is 988.
You can text, you can call, but getting another person to support you as the parent or caregiver or grownup in someone's life is also really helpful. Because this is really scary stuff. You're going to react. We're human.
Of course. I loved how you walked it all the way through for caregivers because a lot of how you're explaining what to say and what to look for is pretty much lined up with, as clinicians, what we're doing when we're assessing for suicide and you're just hitting all the markers right there, and I appreciate that you're merely just sharing that for caregivers and parents to do that as well. So that was really awesome.
Good. Thanks. Yeah, I think the more of us who are out in the world asking questions and being safe people, the more we can prevent suicide from happening.
Definitely. Are there any other takeaways you'd like to share?
I think one of the things that comes up that people get concerned about, understandably, is suicide contagion. In school districts that I've worked with, we often see a young person die by suicide. And then there are other suicides that follow. And that's real. That does happen.
That when there is a suicide and a young person has been exposed, that's a good time to ask, whether you see signs or not. It's a really good opportunity to talk about how a young person might be affected or impacted, and also whether that loss has generated some suicidal thoughts for that kid too. And I also have found in a lot of schools, there are DBT groups that's dialectical behavior therapy, and there's some real positive outcomes around that. And mostly because those groups are teaching about distress tolerance and how to manage emotion and those are some of the things that when kids don't have those skills, they are more at risk for suicide. So that's been a helpful factor.
I also have some personal experience with suicide. My oldest, my son who's 20, when he was a freshman in high school, lost his best friend to suicide, and it was life shattering for us as a family for our community. And I learned a lot from that experience, not just about intervening and asking questions, but also about resilience. One of the things that was so powerful was, in the school, they created an opportunity for kids and parents to come in. This happened during the summer and they opened the school building and had counselors available. And it was really interesting. Zero kids came in, but-
Yes. So often kids will be rejecting a formal help, and that's okay. What we found was that while all the parents were at the school talking about their reactions and their worries, the young people had gathered at the local park and at the basketball court where this young man played basketball with all of his friends all the time, and they created their own memorial experience. And I'm glad to report there was not a cluster of suicides. There were opportunities for grief counseling. And I think that was helpful, and I know that some young people took advantage of that and they're on their own. But what was most helpful was the opportunity for the kids to get together and just be in each other's space and grieve together in a way developmentally appropriate. And no grownups organized it, none of us-
Yeah. So I think we are hardwired for resilience and recovery, and our kids are too. So they will usually find the ways to use each other, their relationships, and the things that are important to them to figure out how to move forward.
Gosh, Sarah, thank you. That was a lovely way to wind up our conversation. Just on that more positive note. And let me also add, just to emphasize, 988 is the national hotline in [inaudible] for anyone thinking about suicide or who might be experiencing somebody else who might be. So thank you again for emphasizing that. And just thank you for this great conversation. Very important conversation too.
Thank you so much for having me.
I'd also like to thank the team behind the podcast, Jason Clayden, Juliana Whidden, and Chris Kelman, with a special thanks to Jason Clayden who edits our episodes. Take care, everyone.