podcasts
Cultivating Gratitude – Podcast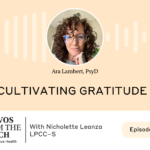 By Jason Clayden on November 6, 2023
Nicholette sits down with Dr. Ara Lambert, a clinician in Illinois, to delve into the profound importance of cultivating gratitude, especially during the holiday season.
Dr. Lambert, a seasoned psychologist with a background in family work, trauma, and substance abuse, sheds light on the multifaceted nature of gratitude in mental health. She emphasizes its role in finding balance amidst life's ups and downs. The conversation covers various benefits of gratitude, from heightened life satisfaction to physiological impacts, providing tangible tips for incorporating gratitude into our daily lives.
Listen and Subscribe Here
Welcome to Convos from the Couch by LifeStance Health, where each episode covers the many facets of mental health and wellbeing.
Hello everyone, and welcome to Convos from the Couch by LifeStance Health. I'm Nicholette Leanza, and on this episode, I'll be talking with Dr. Ara Lambert, a clinician for one of our LifeStance Illinois offices, and we'll be talking about the importance of cultivating gratitude. So welcome Dr. Lambert. Great to have you on.
While the holiday season is often associated with joy and merriment, it can also be a time of stress, sadness, and anxiety. But research suggests that one simple way to boost our mood during our holidays is to practice gratitude. That's why I'm excited to be talking with you, Dr. Lambert, today about the importance of gratitude, especially during this holiday season. We'll discuss the many benefits of gratitude, as well as tips on how to cultivate a more grateful mindset.
So with that being said, let's jump in. Tell us a little bit about yourself.
Yeah. Okay, so my name is Ara, as you've already said, and I'm a psychologist in Illinois. I have a training background that kind of revolves around family work. I've worked a lot with kids, teens, adults. I'm strictly remote now, so now my shift has actually become more teens, adults, older generations, and it's really focused. Where I came from was family and work trauma, substance abuse, all of that. I really focus on relational work now and processing those major life transitions, and really just trying to be okay with yourself in this crazy world.
Yeah, yeah. And so that's what I do for work. I am a mom of two rambunctious toddler boys. I'm married, supportive husband. I really just fly by the seat of my pants all the time.
And so with that being said, I am sure you cultivate your own sense of gratitude, sometimes just getting through the day. You have busy days, huh?
So how would you define gratitude in the context of mental health, and why is it considered a valuable aspect of wellbeing?
Yeah, so I love this question because big, and I don't think there's any one good answer to it. I looked up gratitude because I'm like, "I know what it feels like in my body, but what is it?"
I looked it up. It says the quality of being thankful, showing appreciation and returning kindness, which is great. Pretty vague. How do you work with that? So I was also, did almost like a rabbit hole plunge into gratitude when this came out. I saw an article from Berkeley and it's called The Science of Gratitude, so you can look it up, it's online, but they broke it down into three different placements in psychology, where it can be a trait where it's just your general disposition of just being grateful about life. It can be a mood, so it's like a daily practice of getting into that. Again, feeling grateful, having appreciation for what's in front of you.
And then it's an emotion. It can be described as an emotion where it's very temporary, it's fleeting. And while the other two exist, I feel like that's where we live so often because life is so crazy. And so in the context of mental health, gratitude balances the craziness, balances all-
I love that you said that, yeah.
It balances all of the ups and downs. And I think just in that, it's valuable for our wellbeing. We need some way to come back to an equilibrium that says, "This is all worth it."
Yeah. That right there, the craziness of everything, be able to come to a focal point of, "This is all worth it, and I'm thankful for it."
Yeah. Like, "I'll keep doing this," yeah.
And it's a motivator to keep us going too. Excellent point. So we're already alluding a bit to some of the benefits, but what are some of the benefits that individuals can experience from incorporating gratitude into their daily lives?
They're, I want to say, pervasive. It's not going to be one day you're going to look in at your life and everything is switched, but there is a general incline of just life satisfaction, which is fantastic. You'll see that going into more of that trait, that trait disposition of feeling grateful and not always focusing on the negative. There's also physiological impacts. When we're starting to rewire our brain, our body responds to that. It is more susceptible to … If you're starting to work out and exercise, your body responds to that. It opens up in a sense.
We also start to focus less on material things. Our culture and our society really builds upon, "I need these things to make me happy." And fostering gratitude in your life on a daily basis allows you to focus inward, essentially saying, "I have this value. I don't need it from something else. I'm ready to be here."
No, that's really good. Especially in our world today, our noisy world with social media and just online, just it's so easy that we often navigate things and grab that validation outside of ourselves. We're seeking the likes off of social media, things like that. And so to pause, to really turn inward, recognize what you're grateful for, to get that validation from within, is so key.
And especially you mentioned about some people do maybe lean more towards negative perspectives, and we're all human. And most of us at times can maybe lean to that, but this is a nice way to shift gears with that.
I would actually say that it's an evolutionary thing for us. We, way back when, were in tribes and villages and [inaudible 00:06:01] survived we had to focus on that negativity. The, "Oh my God, I hope [inaudible 00:06:06]."
That's true. "What's going to hurt us?" Right, right.
And so our mind just focuses on what can be negative here. It's a protective factor, but it is also to our detriment.
Yeah, very true. Very true.
So gratitude balances that.
Yeah, definitely. Could you share with us some techniques or exercises that individuals can use to cultivate a sense of gratitude, especially during the holiday season?
Yeah, I was thinking a lot about this because I'm going to give some generic answers to some degree. In true psychology therapy world, it depends on your situation, your circumstances, your environment, and whether or not really you've had the practice for this, because it is a daily practice that you need to cultivate.
The very generic ones are let's meditate or engage in mindfulness on a daily basis, or engage in the deep breathing exercises or the deep relaxation pieces. And there are tons of prompts that you can find online. You can jump on YouTube, someone's walking you through something. It's fantastic the amount of resources we have for that. And so that's the very generic one, to sit there and take stock of your life. You can do the journal prompts.
The one key I always throw in with journal prompts is don't sit there and go, "Okay, today I'm grateful for these five things," and then tomorrow I sit down and I write almost the same. One of the little tricks I do is when I'm asking my clients to engage in this kind of exercise, is pick one thing and actually explain why you're grateful for it.
Every day, pick one thing that you're grateful for and explain why. Write down all of the reasons why and how it's helped you. Because what it does is it starts to rewire your brain to think that way, to think about these things of, "Okay, this was a bad situation, but what was the silver lining?" It begins to expand.
But then I was also thinking that we are coming upon holidays where gratitude might not actually be there. We are going into stressful situations with families. We are doing things that maybe we don't actually want to do, just to save face. And gratitude is going to look different. And so when I'm thinking about that and thinking about working with my clients, one of my bigger focuses is, "Okay, if you are going to visit family and you don't even want to, pick one time during the day that you're going to just slip away and do something for yourself."
It might be like, "I'm going to go take my coffee and go somewhere." Or, "I'm going to wake up early and I'm just going to be in the living room by myself." Just the little things. Even if it's, "I'm going to turn this way and I'm just going to focus on my breathing just to calm myself down." Gratitude can be found in any particular situation, you just have to have the eyes for it. You have to train your eyes to look for it.
And I think that's it. You have to make it a habit for yourself. You have to look for it. You have to look for the small things. Even if it's something so small, I'm just going to turn my back and mindfully drink my coffee or my tea and just do some breathing, and thank you for these … [inaudible 00:09:14] moments, it's the little things that sometimes you have to just swipe away you make for yourself. Yeah.
As you continue to practice, that's how you rewire, that practicing, incorporating it more and more, and that's how it'll be begin to rewire your brain. So I appreciate you sharing that.
Absolutely, and I think especially when it comes to holidays, we think of gratitude in this very, I'll say small box of, "Okay, I'm grateful for this thing that's in my life." But we can also look at it as, especially during the holidays, what would it look like to respect yourself enough to set a boundary?
"Okay. I know that family's going to come here, but we're going to leave at 5:00. And I recognize that lots of people are going to be upset by that, but we're just going to leave. We need our time for ourselves."
With the understanding that not everyone's going to be happy about it, but we need boundaries for ourselves, better understand what we need. And so gratitude might just be that I'm going to respect myself enough to put something up that is going to make people unhappy, which is a different way to look at it.
Right. But I appreciate that way to look at it. I think especially when people maybe tend towards people-pleasing a bit or this hesitancy to not want to displease others, and so they won't put in the boundary, so it'd be like, "Okay, we are leaving at 5:00. We need time on our own, or time for us as a family," or whatever that looks like. And recognizing I might not make people happy, but that's okay because I'm maybe self-caring enough that I'm making myself more happy.
No, love that. Any other takeaways you'd like to share?
Again, so I was thinking about all these questions and my answers, and I think I want to highlight that every situation is different and every person is different. And so to some people, my answers actually might be coming from privilege, and I recognize that. I have resources, I have people in my corner, I have the support I need so that I can engage in these kinds of things, and some people don't have that.
I appreciate you saying that.
Yeah, and gratitude's going to look different.
I guess my takeaway is to really open your mind about what gratitude actually means for you as an individual, because it's going to look different.
Yeah, very true. Excellent point. My gosh, thank you, Ara. Thank you for sharing the ways we can cultivate more gratitude in our lives. Many great examples you gave here. Appreciate you, and definitely love to have you again on soon.
I would like to recognize the team behind the podcast, Jason Clayden, Juliana Whidden, and Chris Kelman, with a special thanks to Jason Clayden who edits our episodes. Thank you for listening to Convos from the Couch. Take care, everyone.