podcasts
Navigating Everyday Stress – Podcast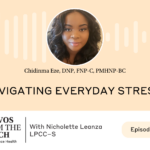 By Jason Clayden on November 9, 2023
According to the American Psychological Association, a staggering 77 percent of adults experience daily stress. LifeStance provider and psychiatric nurse practitioner Dr. Eze sheds light on how this stress can have a profound impact on our mental health.
We discuss the stigma surrounding mental health and the importance of seeking care when needed. Dr. Eze also emphasizes the significance of addressing both physical and mental health as they are intricately connected.
Listen and Subscribe Here
Welcome to Convos from the Couch by LifeStance Health, where each episode covers the many facets of mental health and well-being.
Hello, everyone. I'm Nicholette Leanza, and on this episode I'll be chatting with psychiatric nurse practitioner Chidinma Eze, and we'll be talking about how everyday stress can really affect our mental health. So great to have you on, Chidinma.
Thank you, Nicki. Thank you. It's honor having me on the show and I'm happy to join you.
Thank you. According to the American Psychological Association, 77% of adults report feeling stressed on a daily basis, so it's so important that we're having this conversation today as you can help us understand how stress can be harmful to us. So as we dive in, tell us a little bit about yourself and what made you interested in working in the mental health field.
Oh. My name is Dr. Chidinma Eze. I am a nurse practitioner. I have a doctorate in nursing practice on the psychiatry portion of it. I got it from University of Massachusetts Global. I have been a nurse since 2008 and a nurse practitioner since 2016. I'm a dual satisfying nurse practitioner. That means I have a family nurse practitioner and I also have a psych mental health nurse practitioner. I have worked in St. Elizabeth Hospital as a registered nurse and I also work in Sheppard Pratt as a nurse practitioner. This experience in two top mental health hospitals equipped me as a competent provider to work as a psych nurse practitioner.
I've also worked as a nurse practitioner at Baltimore County Detention Center and also in youth service center where I deliver kids. And what made me interested in working in the mental health, I chose mental health due to the stigma they are facing. The stigma mental health field is facing make it difficult for people to seek care at the time it is needed. So I am glad that my patients can receive care now at the comfort of their own home while maintaining their privacy, especially via telehealth. We have things like Doximity and we have [inaudible 00:02:31]. I am a compassionate person and love to advocate for my patient, and I believe to work in the mental health field, you must be a good listener and a good communicator and also compassionate and advocate and caring for your patient at all times.
And you definitely seem like you have all that.
Yes, that's what I do every day and I'm always happy when my patient make a change and also when they're happy with the care that they're receiving, because I know it's already stressful out there. The best is what I have to provide to them. And back to your question, Nicki, about the stress that affect a person's overall mental health.
I'm going to touch a little bit about it.
Yeah, let's jump in. How does everyday stress affect a person's overall mental health?
Yes. Everyday life or stress can affect a person's overall mental health. According to American Psychiatric Association, anxiety is a normal reaction to stress. And I always often tell my patients that I can experience it, you can experience it. So often, the worries focus on everyday things such as job responsibility because you have to meet up your role that you work, in lifestyle and weight, and you have to also meet up family health, or minor matters such as chores in the house. You're calm. I broke down while coming to work. Appointments that you have to make sure you make those appointments. It can be a doctor's appointment, it can be any kind of appointment that you set.
So those stress causes anxiety and according to NIH, women are diagnosed with depression more often than men. So women are prone to it, although men do have it, but men can also be depressed because men may be less likely to recognize it because they might ignore it trying to be a man or talk about it and to seek help. So men don't usually seek help or talk about it when they're feeling emotional or they are at risk of depression. So that's why we always make sure that we take time to screen them because the symptoms being undiagnosed or undertreated is high. So whenever they go to their primary care, it's always good to screen them for anxiety or depression so that we can be referred to us that mental health provider to go from there.
We got to remind our men that it's okay to get help. It's okay to speak up and say that you're having a hard time.
Yes, it is very important to always seek that help as a man. Always talk about it, speak up. Don't wait until the stress is all up there before you start letting it out because that's when you become suicidal or that's when it goes untreated. Depression can make someone go down quickly.
When would someone consider taking medications to help with their mental health?
Thank you very much. Medication management should be left for a mental health provider to decide based on the assessment and diagnosis, because whenever they see also our mental health providers, we do what they call psych evaluation, diagnostic evaluation to be able to diagnose the patient of what illness they have. It can be anxiety, it might be depression, it might be OCD, it might be trauma. You don't know the trauma. Not everyone is trauma-informed about what is going on out there, so that's why it's always good to refer a mental health provider to decide based on the assessment and diagnosis.
You can always talk to a mental health provider if you feel overwhelmed, trouble sleeping, difficulties concentrating, irritable, sad, depressed, hopeless, or even thoughts of death. But I always tell people, don't wait until you feel thoughts of death. If you're going days without sleeping, no, it's not normal. You have to see someone. So these symptoms may be as a result of depression or anxiety or any other mental issues we need to address as a provider. So that's why we always encourage them to seek a mental health provider when they start feeling those things. Don't ignore it.
That's the key. Don't ignore it. Don't let it go on too long, too.
Definitely. How can a person's physical health affect their mental health?
According to CDC, mental health and physical health are equally important components of overall health. I usually like that portion of whenever I see it on CDC, that's actually true. For example, depression increases the risks for many types of physical health problems, particularly long-lasting condition like diabetes, heart disease, and stroke. Common symptoms of thyroid issues are nervousness and tiredness and depression. That's why when you're seeking, you seek both. When a patient comes to me, I always ask them, when was your last annual physical? Try to get those labs, that thyroid panel to see what is going on with them. That's what I do.
Yes, it's very important as a provider to address both of them. Don't just ignore them. If they're coming, they're nervous or they are anxious and you're just treating them [inaudible 00:08:21] okay, just because of diabetes. No, they might be adjusting to that illness of being newly diabetic. So you have to also treat that portion of that mental health. So that's why I say that the physical and the mental health is pretty very important.
Yes, yes. Any other takeaways you'd like to share?
The takeaway that I like to share is it's always good as a provider, regardless of any capacity that you are in, to always know when to refer. It's better to refer. And we don't do medication management because there are so many traumas out here right now. The patients are very scared of what is going on in the world, watching the TV, they're going [inaudible 00:09:07]. So always make sure you refer your patient to get that treatment. And it can be me, it can be you, it can be any other person. I see healthcare providers being bought out and seeking care. So always make sure you seek that treatment. Always make sure you talk to someone. Don't just hold it all in. That's why we are out there. Take that sick leave and come on and get assessed and get the services that you need. We are always here for you at LifeStance.
Oh, yes, we are. Oh my gosh, you did [inaudible 00:09:41]. Thank you so much. You were amazing.
Appreciate how much you shared with us about how that everyday stress can really wear us down and affect our mental health. So thank you again.
Oh, you're welcome. Nicki, it's always a pleasure to talk to you.
You too. I'd like to thank the team behind the podcast, Jason Clayden, Juliana Whidden, and Chris Kelman, with a special thanks to Jason Clayden who edits our episodes. Thank you for listening to Convos from the Couch. Take care everyone.