podcasts
Mindful Drinking: Finding Balance and Moderation – Podcast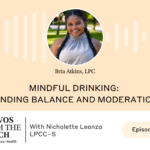 By Jason Clayden on April 19, 2023
In this episode, we are joined by Bria Atkins, who shares how mindfulness practices can help individuals develop a healthier relationship with alcohol. We explore the role of self-compassion, self-awareness, and self-regulation in mindful drinking, as well as the benefits of mindfulness for overall well-being.
Whether you're looking to reduce your alcohol consumption, build healthier habits around drinking, or simply want to explore a more mindful approach to alcohol, we hope this episode helps you find greater balance and moderation in your life.
Listen and Subscribe Here
Welcome to Convos from the Couch by LifeStance Health. We're leading mental health professionals help guide you on your journey to a healthier, more fulfilling life. Hello, everyone, and welcome to Convos from the Couch by LifeStance Health. I'm Nicholette Leanza, and on this episode I'll be talking with Bria Atkins, a clinician from one of our LifeStance Chicago offices, and she'll be giving us some tips on reducing our alcohol use by practicing mindful drinking. So welcome, Bria. Great to have you on.
Thank you so much. Hi. I'm happy to be here.
Yeah. Same here. Ironically, I came across an article from the Huffington Post about ways to get started with a damp lifestyle, which I've never heard that term before. And so the article is referring to ways to actively refrain from overusing alcohol because some people may not want to go so extreme of the abstaining completely and going dry. So a better option for some people might be just damp lifestyle, or what we're going to call in this episode more mindful drinking. So I really look forward to our conversation today, Bria, as you share your thoughts on this practice.
Yes. Absolutely. I think it'll be a great conversation. So I'm looking forward to it.
For sure. So as we start our conversation, tell us a little bit about yourself.
Well, like you said, I'm at LifeStance through one of our Chicago offices. Right now, I'm licensed as a licensed professional counselor. I see a lot of clients with a variety of mental health concerns such as depression and anxiety. But I see a lot of folks that are also looking to work on their substance use issues. And the range depends. People are on different spectrums. Some are really struggling with alcohol addiction. Some are looking for that mindful approach, and they can tell that something's going on and they maybe need to talk about it. So I see people in between. And I have a background working in a residential level of care with substance abuse. So that's where a lot of the information that I'm talking about today will be pulled from.
So you definitely sound like you carry a lot of experience on this topic. I definitely appreciate that. So can you define for us what mindful drinking is and what that means?
Yeah. Absolutely. So I think something that will be important to note throughout this is when I'm saying mindful, what is that at its simplest form? And that is just being aware of the present moment. I think we hear that word a lot nowadays. So I just wanted to put that out there. Being mindful is being present, being aware of what's going on. So when it comes to mindful drinking, I would define it as an intentional practice. You're being aware of why you're drinking and also being aware of how much you're consuming.
Because how easy can it be for some people just not even be aware that they're on their fourth glass of wine or something like that.
Really key point. So how can someone get started with a mindful drinking practice?
Honestly, you can get started the next time that you drink. Just like you said, sometimes we're in the position where we're on our fourth glass of wine and we didn't even realize how we got there. So the next time that you're drinking, taking a pause and asking yourself, "Okay. Am I okay with this decision? Is this supporting me? Why am I drinking?" And when you're asking yourself these questions, you're making sure to do it in a non-critical, non-judgmental way. You're just being curious with yourself to see, okay, making sure that I'm drinking for the reasons that I believe I'm truly drinking, rather than the typical autopilot of, like we're saying, we're now four glasses in and we don't know how we got there.
Right. And so I think those are definitely some great tips to get us started. Are there more specific methods of reducing our alcohol consumption?
It'll definitely depend person to person. I think it's really going to be about having an open mind, first off, because if you're not used to taking those pauses and asking yourself why you're drinking in the first place, it can come off as a not so fun practice. So I think that that's going to be the first thing, is having an open mind.
But as far as more of those effective methods, it depends on the person. I've had clients where it works for them that if they know ahead of time, "Hey. I only want to have three drinks," so capping themselves with that. Or they're thinking, "Hey. Instead of doing three drinks in a shot like I may normally do, I'm going to drink water in between. I'm going to take longer amounts of time." So those are more of those tangible things that you can be aware of. If right now you're feeling like, "I don't really want to be intentional with the questions. I don't want to take the pauses." So if you go in with the game plan of knowing how much you want to drink and either timing it or making sure to have some hydration in between, I think that can be really helpful.
Oh. Those are great strategies, especially with the hydration and balancing it with water. Good tip there. So what are some common challenges that individuals face when they're trying to reduce their alcohol intake?
Societal pressures, peer pressures. I think we live in a society where drinking and over-drinking is so normalized. I think there are so many activities that are centered around drinking that it can be really hard when you're in this space where hey, you want to continue to drink, but you know that maybe you've been drinking too much. How do you find activities that aren't happy hours and aren't things of that nature? So that's definitely a common challenge, is just dealing with the societal pressure. I would say another challenge too is maybe just the idea that you would have to control your drinking. I've worked with a lot of clients where that maybe is a sign of defeat to them. So they're pre-saying from the get-go, "Hey. I don't even want to admit that I'm in the place that I maybe need to monitor my drinking." So aside from societal pressures, I think a lot of the common challenges come from within and how you perceive the idea of limiting or controlling your consumption.
Right. Our own perceptions of it. For sure. So then especially in social situations, how can someone manage cravings or temptations to drink if they're really trying to be more mindful about it?
Yeah. I definitely think it's going to depend a lot on the company that you're around. Are these good friends? Are these people that you feel comfortable saying, "Hey, you all. I'm looking to watch my drinking tonight."? And it may not sound as formal as that depending on what friends you are, but I think it can feel really empowering when you say something ahead of time because I've also worked with clients where they say something along the lines of, "I don't want my friends to know that I'm not drinking," or, "I don't want them to ask me that." So I think it can be helpful if you take the initiative and you say something before they even have the chance. So I think that can be helpful. And when you're in a social setting, especially I'm imagining you sitting at a dinner table with some folks, ordering first. I think there can be more pressure when-
… everyone else has ordered something and it gets to your turn. It's so much easier to say, "I'll have what they're having." So if you start, I think that that can be a really helpful tip too.
Oh. I love that tip. That's a especially good one. So how does a person's mental health struggles with depression or anxiety, any mental health struggles one might be navigating, interact with their relationship with alcohol?
So it's definitely a relationship that I work a lot with clients because a lot of times, I'm seeing when people are drinking more than they intended to, they're drinking to escape some type of emotional distress. So whether that's a feeling that they don't like… I see it two ways. A lot of times, I see, let's just say they experience an emotion like sadness or anger, and then they may turn to alcohol because they're experiencing that distress and they want to numb out, so to speak. Or I also see that perception of, "Oh. I know this activity will make me sad or angry." So before they even allow themselves to feel that emotion, the alcohol comes in before. So it's like you're not even giving yourself that chance to experience it. So a lot of times, I just see wanting to numb, wanting to escape when someone is experiencing something like anxiety and depression. And while it may work in the short-term, which is why a lot of people engage in it, the long-term impact can really be detrimental.
Right. Oh, my gosh. I definitely agree. And again, because it can feel like it's a quick fix, you don't recognize it in the long run. It's going to be working against you, like you're mentioning.
Exactly, because a lot of times, with anxiety and depression, it's in this cycle. So if we are doing activities and behaviors that allow us to escape, allow us to avoid, again, it's that short-term relief. But in the long-term, still feeling anxious, still feeling those depressive symptoms. And I hear a lot of times for people, when they're drinking more than they intended to, that day after, increase in depressive symptoms, increase in anxiety, whether the anxiety is [inaudible 00:09:34], "Wow. I don't know how I behaved last night," or the depressive symptoms of, "Wow. I'm still feeling the same low feelings that I had, but maybe now they're even more exacerbated by the fact that I've now drank more than I intended to."
Right. I agree. So how can someone determine if they have an issue with alcohol? And when is it time to seek professional help?
That's a great question. I think tying back to our society, it can take a while to recognize if you are struggling with that just because it's being pushed in our face so much that if you're looking at your friends and coworkers and comparing yourself to them, you may not think that it's time to get help. So I think something that you want to be mindful of is asking yourself, "Am I drinking more than I intend to?" And I know I've said that a lot, but really thinking, okay, if I know I'm going out tonight and I'm saying, "Hey. I want to have this amount," but if I'm drinking twice as much as that, three times as much, that's an indication of a problem. If you're recognizing that you are not dealing with your emotions in a more healthy, productive way and you're going to that substance first, that's a time to pay attention.
If you're having cravings and trying to figure out like, "Okay. What is that craving for?" What are you trying to elicit out of the substance? I think that's an important question to ask to see if maybe this is a concern. I would also say too, if you've tried times in the past to reduce and it hasn't really been successful, that may be another sign of, "Okay. There's something going on."
Yeah. Oh. That's a good, key point right there as well. Any other takeaways you'd like to share about mindful drinking?
I think the biggest takeaway is it doesn't have to be a perfect practice. I think it's definitely important to know that it's going to be individualized and tailored to you. So you can have two people that are both practicing mindful drinking, and they may have two completely different practices. So I think it's important to not compare yourself to anyone else. But again, just asking those internal questions because you know you best. So again, ask, "What feeling am I trying to elicit out of this drinking? Is it going to support me? Is this physically helping me? Is it emotionally helping me?" And again, not having judgment when you're asking yourself those questions. I think again, the important part of the mindfulness is being aware of the present moment, but not in a critical way because-
… no one want… No one's going to feel encouraged to work on this practice [inaudible 00:12:05]-
… you're already having that negative self-talk. So having that open mind I think is especially important.
Oh, my gosh. That's so key there. I think that's what people might miss. They can understand the mindfulness of being aware of their drinking, but that internal critic, that might be beating themselves up for. And that's what you're saying. Hold off. Hold off on that internal critic beating yourself up.
Yes. Absolutely. Because that's just not helpful. [inaudible 00:12:34]-
… not being graded on this. But again, it's something that, again, you may do well one night, and then another night, maybe not so well. So again, we're just trying to figure out just what's going on, getting to the root of things.
Yes. Oh, my gosh. Bria, thank you so much. You gave so many great tips on how to incorporate mindful drinking into our lives, and definitely practice it more. So I thank you very much for all the information you shared today.
You're welcome. It was nice talking with you.
I would also like to thank the team behind the podcast, Jason Clayden, Chris Kelman, and Juliana Whidden. Take care, everyone.