Blog
Celebrating the LGBTQ+ Community – How to be a Great Ally!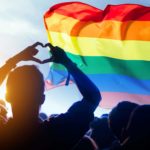 By Lifestance Health on June 17, 2021
June is National LGBTQ+ Pride Month and the Lesbian, Gay, Bisexual, Transgender & Queer + community loves allies!  Allies are open to learning more about what it means to be a member of the LGBTQ+ community and how they can best support their LGBTQ+ friends and family members.
Here are some tips on how to be a great LGBTQ+ ally:
Discover LGBTQ+ history. 
Understanding the different ways that LGBTQ+ people have been portrayed throughout history is important to contextualizing the movement today. Learn more about the significant events that impacted the community can be a good start. Check out more information about the Stonewall Riots, the history of the Pride flag, the AIDS Memorial Quilt, or the quest to finally achieving marriage equality in 2015.
Learn about LGBTQ+ inequality and policy issues. 
Even though there have been significant strides in the LGBTQ movement, there are still some policies that negatively impact LGBTQ+ people. For example, in many states there are no state laws protecting transgender people from being fired. The Human Rights Campaign is a reliable source to become aware of the current policy issues affecting LGBTQ+ rights. Also following LGBTQ+ news sources can be helpful such as the Advocate and the Huffington Post.  
Another way to learn about inequality issues within the community is to listen to the concerns and struggles that LGBTQ+ people experience every day. Talking with a friend or a family member about their experiences, watching a documentary or reading a book are important ways to understand the diversity of the community. Staying informed on the relevant issues affecting the community helps LGBTQ+ allies better advocate for the community.
Stand up to intolerance toward the community.  
It may not be easy to speak out against statements and jokes that are disrespectful to LGBTQ+ people, but letting others know that you will not allow intolerance can be effective in changing attitudes and behaviors. Speak up if you hear someone use a slur or an insensitive comment. Encourage others to use the correct pronouns if they misgender someone. Promote diversity in the workplace. Starting positive conversations about LGBTQ+ issues is a great way to increase awareness and welcome new allies to the community.
Volunteer and Donate.
Volunteering your time is a great way to be an ally for the community as well as donating money to ensure LGBTQ+ organizations can continue their important missions.
Here is a list of a few LGBTQ+ organizations to consider donating to or volunteering for:  
Human Rights Campaign:The HRC is the largest political organization that strives to end discrimination against LGBTQ+ people and works to achieve fundamental fairness and equality for all.
PFLAG: Parents and Friends of Lesbians and Gays is the first and largest organization for uniting parents, families, and allies with people who are lesbian, gay, bisexual, transgender, and queer.
GLSEN:  The Gay, Lesbian, and Straight Education Network works to create safe and affirming schools for all, regardless of sexual orientation, gender identity, or gender expression.
The Trevor Project:  Provides crisis intervention and suicide prevention services to LGBTQ+ young people age 25 and younger.
SAGE:   SAGE is a national organization that offers supportive services and consumer resources to LGBTQ+ elders and their caregivers.
The National Queer and Trans Therapists of Color Network: The NQTTCN is a justice organization that works to transform mental health for queer and trans people of color. They provide a community for resource sharing, connection, and learning among queer and trans people of color committed to improving mental health for their communities.
It Gets Better Project:  The It Gets Better Project is an organization dedicated to uplifting, empowering, and connecting LGBTQ+ youth across the world. Its goal is to help youth to understand that 'although growing up isn't easy, no one has to do it alone.'
All in all, there are so many ways to be an ally to the LGBTQ+ community but truly one of the best ways to support a loved one in the community is to love them for exactly who they are.
Happy Pride!