Blog
How to Talk to Your Family About Mental Health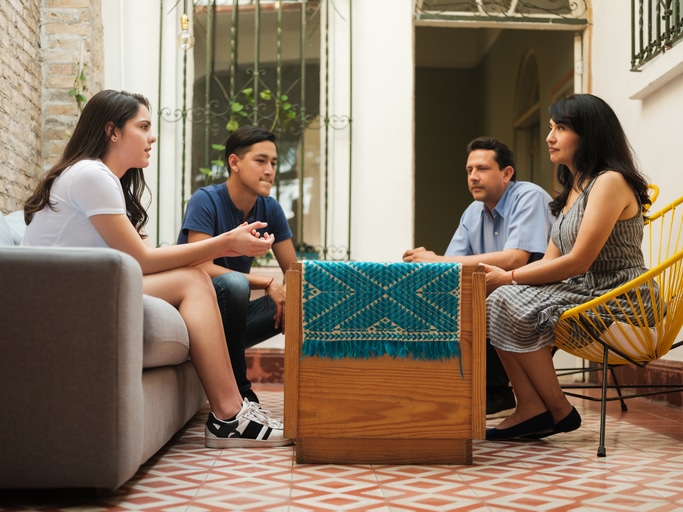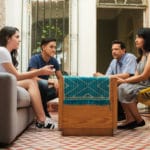 By LifeStance Health on May 25, 2022
This content has been updated from previous article on May 13, 2020.
While the importance of mental health is all around us, it can still be difficult to discuss this topic with family, friends, and loved ones.
May is Mental Health Awareness Month in the United States and this time before the carefree days of summer is apropos to take stock of your own mental wellness and those around you.
The hardest part about talking about mental health can be finding the right time, but it also good to remember to initiate any conversation with an open heart and listen without judgment.
First Assess Your Own Mental Wellness
As the airplane safety briefing asserts, you need to take care of your well-being before attending to the needs of someone else.
Before discussing mental health with others, it is important to assess your own mental wellness. Be honest with your own situation and be prepared to share how current events such as the COVID-19 resurgence, economic challenges or geopolitical developments have affected your own mental health.
In order to provide support to others for their mental health needs, we hope that people everywhere will assess their own mental health by learning more about the risks to mental health and speaking with their loved ones if they need help or who might be suffering from mental illness.
Seek a Professional Opinion from a Therapist via Telemedicine
If you have a particularly difficult conversation ahead of you, consider speaking to a therapist about it first. Studies have shown that for many mental health illnesses, early intervention and support is correlated with better outcomes.
However, depending on the severity of the mental health issue in front of you, seeking out advice from a mental health professional may be a crucial step that cannot be overlooked. Telehealth allows you to speak with a licensed therapist at a convenient time and location without sacrificing confidentiality or professionalism.
Once you discuss your concerns with the therapist, you have two options:
Move forward with the conversation on your own, armed with knowledge from the session with the therapist
Ask the therapist to join you for a conversation with your family about mental health
In some situations, it may be very beneficial for a family therapist to join you and your loved one for the initial conversation over a video conference. The therapist can act as a neutral, informative third party and also impart an urgency to the conversation. They can answer questions from you and your loved one about mental health concerns, clarify any misconceptions, and direct the conversation.
This service can be particularly important if you need to stage an intervention for a person in crisis or teach your family members how to best support you through your recovery. Even if you don't need a therapist for the actual conversation, starting with a telemedicine session can help you feel more confident about the conversation ahead and create a roadmap for where you want the conversation to go.
Be Prepared with Empathy
No matter who you will be talking to, it is important to approach the conversation with preparation, empathy, and a next step in mind. Before you approach someone about your concerns about their mental health, be prepared for the conversation by learning more about mental illness and the support and services needed to help them cope and recover.
Take into consideration the age and life stage of your loved one. Helping a child who seems to be suffering can require a different approach than a friend or adult family member.
Maintain a Firm and Compassionate Tone
You may wish to approach a loved one who you believe may be struggling with mental illness with empathy and compassion by sharing your own journey, or talking more broadly about your concerns about their behavior.
It's important to strike the right tone of voice when you discuss mental health concerns with your family or friends. When bringing up your observations and concerns about their mental welfare is important, be ready to listen to their lived experiences and needs. Have an open mind during the conversation and consider their points of view and present a variety of options to best support their mental wellness.
Strike the Right Balance
One technique that can help in your conversation is to use "I sentences." As the term suggests, these sentences start with "I" and go on to describe your own feelings about the situation. Some examples include:
I have noticed some changes in your mood and I am worried about you.
I feel like it's important to discuss mental health openly.
I need support during this trying time.
These sentences provide a gentle entry into difficult conversations and are much easier for your loved ones to hear than alternatives like, "You are moody and you're scaring me," or "You really need to be more open about mental health."
Provide Solutions and Resources
Would you rather someone tell you that there's a problem for you to solve or come to you with some ideas for solutions? Most people prefer to hear some ideas for solving problems when they have become aware of a situation that needs to be resolved. The same goes for conversations about mental health.
If you are talking to a loved one about their mental health, be sure to offer some ways you can support them during this time. You may provide references to a therapist or support group, ideas for healing on their own, or stories about your own mental health journey they might find inspiring or helpful. Similarly, if you're talking about your own mental health, be sure to ask for specific forms of support.