LifeStance Telehealth Services
We know that it can be hard to fit appointments into your daily life. Leaving home when you are managing mental health symptoms, or even just finding time to commute regularly to an in-person appointment can be difficult. We believe that mental health services should be easy and accessible, which is why we offer mental health services online.
Video Sessions are covered by insurance!

Telehealth appointments with a LifeStance provider
Secure
We use secure technology to keep your personal health information private. All telehealth appointments are subject to the same strict HIPAA standards as in-person sessions.
Effective
Research shows that telehealth services are as effective as in-person appointments when it comes to treating mental illness. Some people find that telehealth is more helpful because they are able to attend appointments regularly.
Covered
Most insurance policies that cover mental and behavioral health services provide coverage for telehealth appointments as well. Our clinicians work with most major insurance providers to ensure you can access the care you need.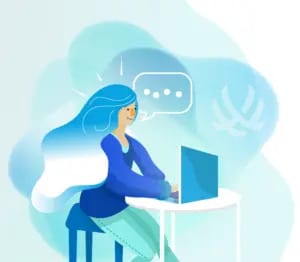 What is Telehealth?
(Also referred to as Telemedicine, Teletherapy or Telepsychiatry)
Telehealth is a form of video conferencing allowing psychiatrists and therapists to provide services to patients outside of the office, for example at the patient's home or workplace. It also provides the opportunity for consultation with family members, teachers and other providers involved in the patient's care. Surveyed patients participating in telemedicine say they are very satisfied with the care they are receiving and that they feel telemedicine is a reliable form of practice. In addition, they find that they are able to keep their appointments on a more regular basis.
A study published in the Journal of Clinical Psychiatry comparing in-office-treatment to treatment via telepsychiatry indicated
"There were no statistically significant differences between study groups for symptoms, quality of life, and patient satisfaction… there is a strong hypothesis that videoconference-based treatment obtains the same results as face-to-face therapy and that telepsychiatry is a useful alternative."
What do Telepsychiatry & Teletherapy Require?
For your appointment, you will need to have access to a private place and a computer/tablet/smart phone with a camera and high speed internet. Lifestance will provide you with access to a secure HIPAA compliant videoconferencing software free of charge. All you have to do is be on your device and logged on at the time of your appointment. Is Telepsychiatry & Teletherapy Secure? Lifestance ensures the interaction between the patient and psychiatrist/therapist is completely secure and HIPAA compliant. The teleconferencing software encrypts all forms of data, including video and audio.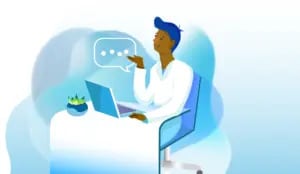 Benefits of Telehealth
Telepsychiatry & teletherapy provides the patient with benefits that may lead to better care. We understand it can be difficult to take time off from your busy schedule to come to our office. This form of treatment can eliminate your commute time and lead to less stress, especially when you are scheduled to see your psychiatrist/therapist often.  For patients who are usually seen in the office but are sick or traveling, this form of treatment allows you to still keep your appointment without interrupting your care.
What Do I Need to Do?
The main thing you need to do to prepare for a teletherapy appointment is to ensure that you have a private space. You also want to make sure that the device you use has high speed internet and a camera. When you schedule with one of our practices, they will provide you with the HIPAA-compliant software you need to participate in your appointment
Is Telehealth Safe?
We always make sure that any appointment that takes place between a patient and one of our therapists is compliant with HIPAA regulations and ensures patient privacy. The software we use to facilitate this teleconferencing encrypts any video and audio, too.
What Mental Health Conditions Can Telehealth Treat?
Telehealth includes Teletherapy and Telepsychiatry, facilitating treatment of a wide variety of mental health conditions and allowing patients to receive care even when they are unable to come into LifeStance's offices. Conditions that can be treated by Teletherapy include but are not limited to:
Since Telehealth also includes Telepsychiatry, it can facilitate treatment of conditions that are sometimes treated by psychiatrists or require medication, including bipolar disorder and schizophrenia. Finally, patients participating in group therapy can also access their sessions via Telehealth. To learn more about LifeStance's Telehealth options, contact a local behavioral health group near you!
What services does LifeStance provide through telehealth?
Our clinicians offer psychiatric appointments and therapy through telehealth. This includes:
Can I get prescriptions through telehealth appointments?
Yes. Our psychiatrists and advanced nurse practitioners can prescribe or refill medications during a telehealth appointment if appropriate for your treatment plan.
How do I access my telehealth appointment?
To attend your telehealth appointment, you will need a high-speed internet connection and a connected device with video capabilities. This device can be your desktop, laptop, tablet, or smartphone. We will send login information after you confirm your appointment.
Will all of my appointments be online?
We offer both online and in-person appointments. If you prefer telehealth sessions only, you can get the treatment you need entirely online. However, if you want to see your provider in-person sometimes, or all the time, you have the flexibility to do that as well.
Note: During the COVID-19 pandemic, LifeStance has moved most types of appointments to telehealth only. We look forward to seeing patients in-person again when it is safe to do so.